New designs: Various plans for Naples, what comes out?
source: StadiumDB.com; author: michał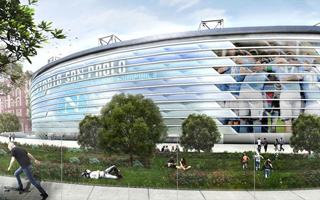 Expand or downsize, save existing stands or demolish – these questions have been addressed in Naples. SSC Napoli just filed documents that hold all answers…
Stadio San Paolo is one of Italy's most impressive, but at the same time one of those crying for renovation the loudest. SSC Napoli eventually had time until mid-July to file their redevelopment plan. Then the deadline was postponed until July 31 due to the fact that it's the first time anyone uses the new legislation regarding privately-funded stadiums.
And according to Napoli president Aurelio de Laurentis all necessary documents were submitted in time. Speaking to Kiss Kiss Radio (charming name!) de Laurentis gave fans a general idea of what is planned.
"It will be a stadium with 41,000 seats. With boxes and lounges for private companies and we'll further analyse in several stages the specific commercial use for which we have designated 45,000 square meters", de Laurentis said.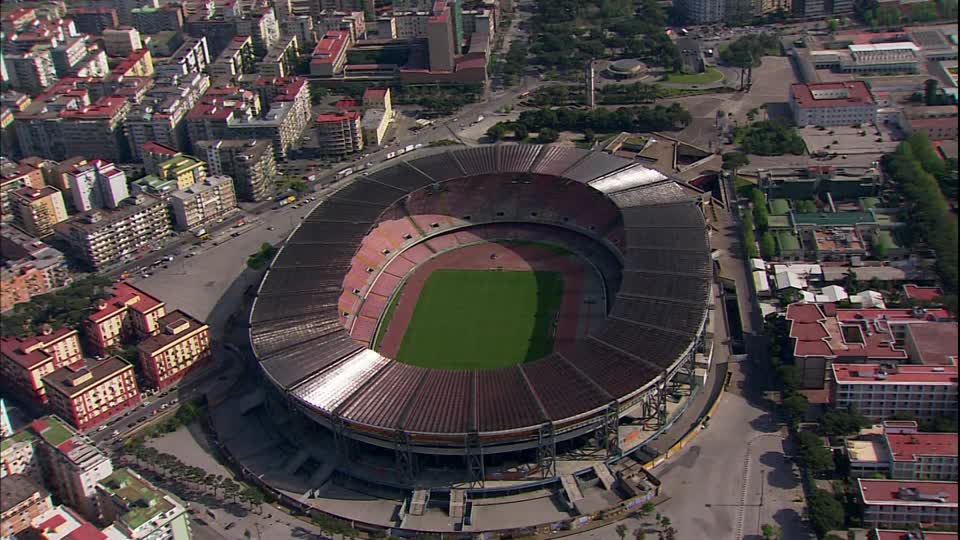 For some the decrease in capacity seems excessive (currently at 60,000+), but the reality is that with 32,266 fans on average the stadium is half-empty all the time. This is why Napoli want to follow suit of Juventus and build a more cosy arena meeting their ticket potential better.
De Laurentis also expressed the hope to begin reconstruction early into 2016, which could result in the stadium being reopened entirely in 2018.
Since we have no information as to what exactly was filed to the municipality, here are three concepts that have been circulating in recent weeks (and years!) of how Stadio San Paolo could change. Please not they're all only presented for reference:
2015, Giancarlo Scognamiglio Architettura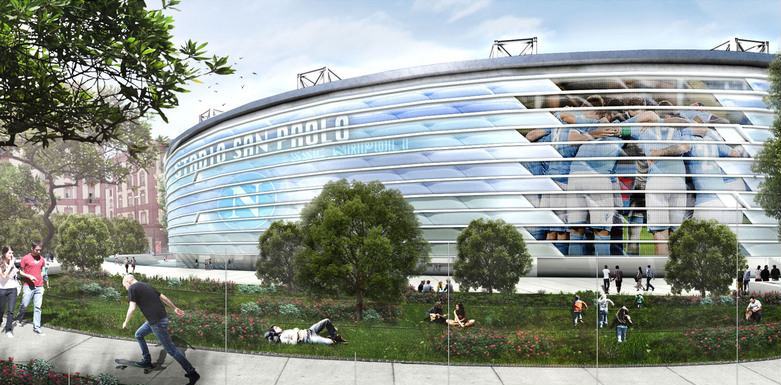 © Giancarlo Scognamiglio Architettura
The concept by GSA surfaced widely in 2015 as part of a bigger offer towards SSCN Napoli. Representing an undisclosed German investor, local construction company Pagliara Costruzioni offered the club to remodel Stadio San Paolo along this vision.
The proposal would see nethier the club, nor the city finance any works. However, in return for this the German investor would operate the revamped stadium and only with Napoli signing a long-term contract to play there. One argument in favour of this deal is that some principles of the architectural concept are similar to those disclosed by Napoli.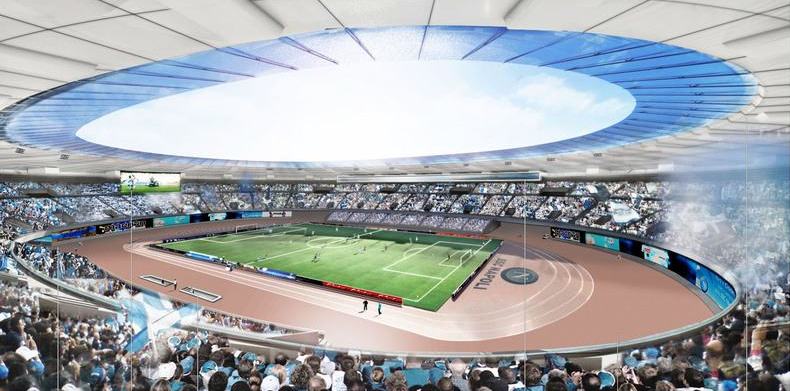 © Giancarlo Scognamiglio Architettura
First of all, stadium capacity would go down to 42,000, roughly one third compared to San Paolo's capacity at the time of design. Secondly, up to 4 floors of additional space for commercial use would be created around existing stands, topped by a strip of skyboxes along both sides of the field. And thirdly, outer wrap of ETFE cushions and new roof would give the stadium a much needed aesthetic revival.
However the scheme has one major difference from Napoli's plan: sightlines. The club aimed at creating a more intimate, football-only stadium. Meanwhile this plan foresees rebuilding the running track, which would put fans far from the field.
2014, Futuri Progetti Urbani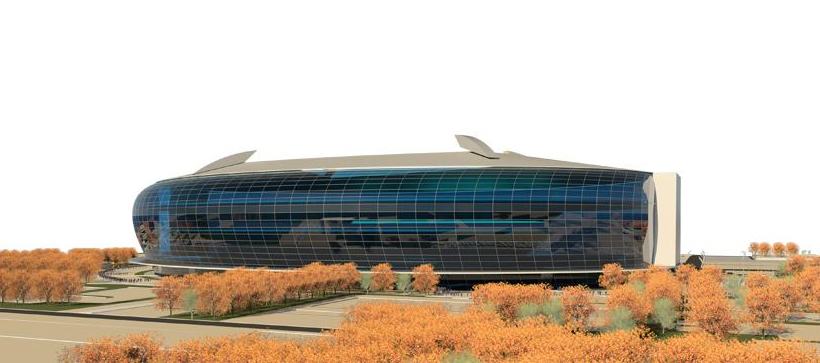 © Futuri Progetti Urbani
Instead of downsizing, this vision foresees a large increase in capacity, up to 70,000. This would be achieved by nearly complete demolition of existing structures and creation of a football-specific three-tier layout. 20,000 in the lowermost ring, 15,000 on top and remaining 35,000 in between.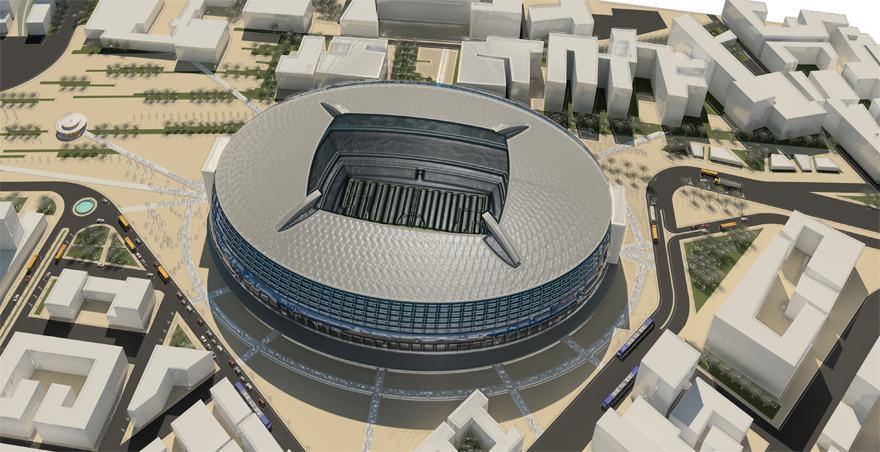 © Futuri Progetti Urbani
Also the steel roof would be removed and replaced by a new one. Aided by glass-clad facades the stadium would gain a rather impressive appearance. That, combined with great access via roads and public transport, would allow the building to become a major commercial/leisure precinct also on non-matchdays.
This imaginative vision understandably received quite some interest in Italy in 2014. However, it never was a realistic alternative to actual demand by SSC Napoli, who have been aiming at downsizing the stadium rather than seeing it grow further.
2010, Manica Architecture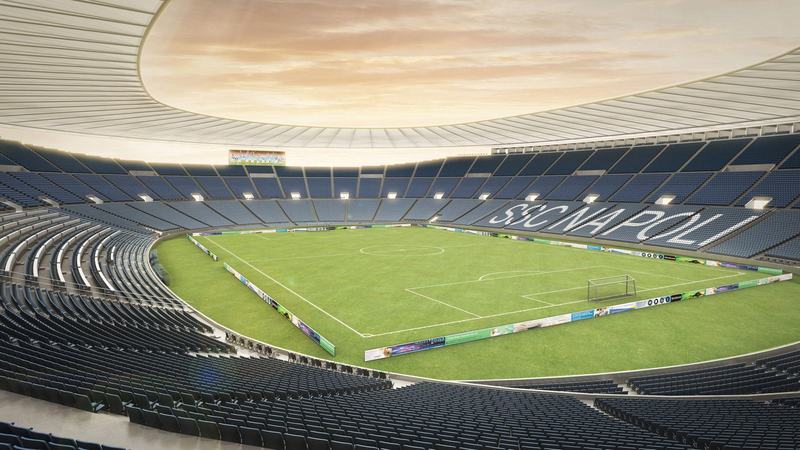 © Manica Architecture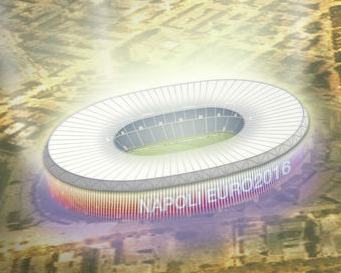 The vision was created as part of Italy's bid to host Euro 2016. The bid was unsuccessful, but Manica Architecture's 2010 concept became a point of reference for years to come. It addressed the main issue, which is heavily outdated infrastructure and huge distance between players and fans.
Along with the plan majority of the main structure would be left intact and thus most of the upper seating would be retained. Topped by skyboxes and lowered behind both goals, the stands would be extended downwards with a new lowermost tier. This way fans in front rows would be moved a lot closer to the action than they've been since the stadium opened.
New lighter roof based on a steel frame was to reach better inside the stadium, protecting fans in the new lower rows. Outer cladding with extensive use of LED lights was to bring the stadium to life also outside by using multimedia displays.