Design and construction: Polman Stadion reimagined
source: StadiumDB.com; author: michał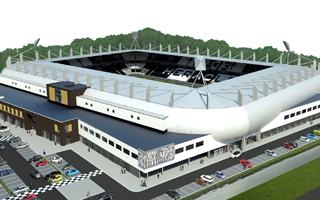 Heracles Almelo want to pursue local rivals Twente Enschede by upgrading their stadium. Just 15 years from opening its capacity is about to double.
The Netherlands are an increasingly interesting football country as their clubs continue to grow sustainably. With Eredivisie stadiums nearly all packed to capacity and Heracles Almelo is a great example of just how much ticket demand has been growing.
They opened their current stadium, Polman Stadion, in 1999. After just 5 years in operation the club increased capacity from 6,500 to 8,500. As they established themselves as an Eredivisie side, plans of building a brand new stadium or further expand the "old" one were introduced already in 2007.
When the plan to build a 15,000-capacity stadium eventually fell through in 2013, Heracles Almelo officials decided to pursue a less costly and somewhat less ambitious plan. Thorough redevelopment of Polman Stadion meant capacity increase to 13,500. Less than the previous scheme, but also coming at a fraction of the price: from €30 million to just €12.5 million in the updated vision (both compared below, old one above, current vision below).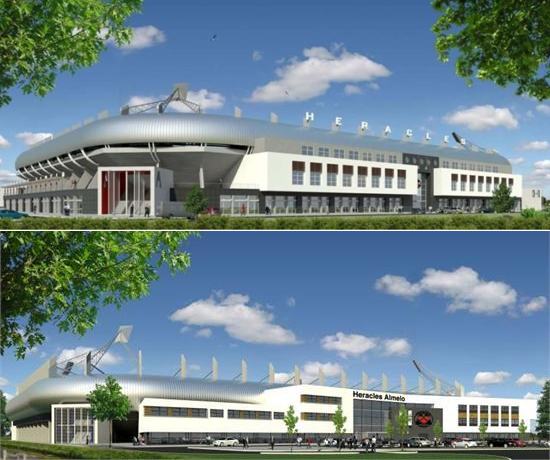 © Heracles Almelo FC
The entire plan was shaped to visually resemble the scrapped new stadium with black-white club colouring and a rounded seating bowl rising from more rectangular commercial spaces. Instead of building brand new stands, the vision adds a prefab second tier to the existing stadium.
First phase began in 2014 with only the additional floor space added to the western grandstand (hospitality and commercial use). Then in 2015 roof was removed to make way for additional seating and all works are expected to end before 2016. From today onwards you may see progress via StadiumDB monthly updates thanks to the brilliant help of Heracles Almelo!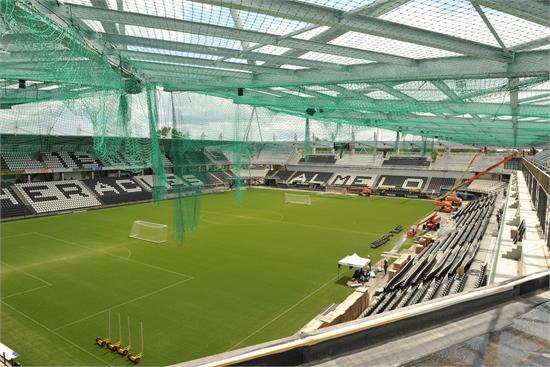 © Heracles Almelo FC
What's the future name going to be?
Polman Stadion is a commercial name that runs until 2019. But the deal with local entrepreneur Pim Polman brings just €20,000 per year, so the club's intentions of changing the name have been very clear.
The reconstruction project goes by the name of Nieuw Heracles Stadion despite official naming and pr8 architecten accidentally released a rendering depicting another sponsor of Heracles, TenCate, as the naming rights holder. This of course angered Polman, but at this point no definite steps have been taken by either party.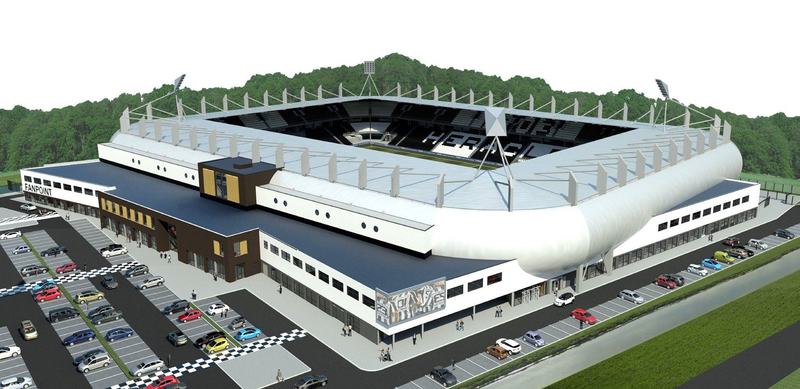 © Heracles Almelo FC