Iraq: ISIS destroys Al Anbar Stadium
source: Elaph.com / alAlam.ir / alSumaria.tv; author: michał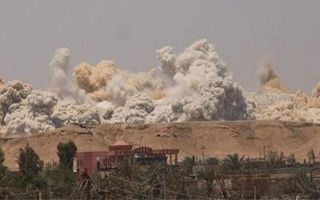 Construction works were on hold indefinitely. Now there will be no more works as Al Anbar Stadium was entirely destroyed with explosives. ISIS reportedly confirmed the building was used by Iraqi army.
Al Anbar Stadium was supposed to become an important piece of Iraq's sports infrastructure revival. The 31,000-capacity stadium had nearly all concrete works done and part of roof construction in place when works had to be halted in 2014 as ISIS expanded into the Anbar area.
So far you were able to see photo galleries from the construction site via StadiumDB, now there's nothing more to report on. Security sources in the Anbar Province confirm the structure collapsed and we understand it's beyond saving (not that it should be a priority with dramatic humanitarian situation).
Reportedly the stadium was destroyed with 3.5 tons of explosives as ISIS found it used by Iraqi army forces. Thankfully there are no reports on casualties as the army is said to have left the area a couple days ago and the stadium stood 18km west of the city.
The stadium was supposed to cost IQD 116 billion ($97.5m / €90m).