New stadium: Four new grounds from Chile
source: StadiumDB.com; author: michał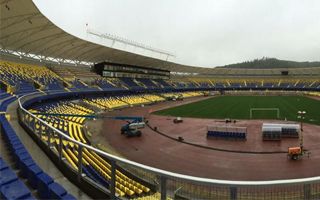 These four stadiums are the four we missed from Copa America 2015 host list. Check out not only the stadiums, but also photos showing the landscapes – amazing!

Extremely ambitious, this stadium began as a World Cup candidate in 1957. Reconstruction of old wooden stands at Estadio Collao (Collao is the location in eastern Concepción) ended in 1962 with a continuous lower tier and upper sections along both sides. Altogether the stadium could hold 35,000 people, more than any other in southern Chile and also any outside the capital Santiago.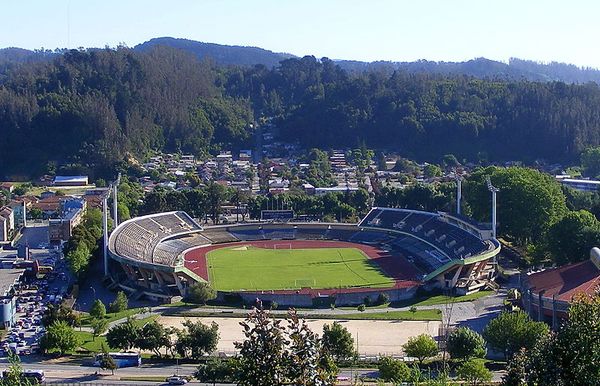 Ironically, despite its scale the stadium didn't make the host list and was only used domestically at the beginning. Various clubs brought their football performances to this location, most notably Universidad, CD Concepción and Fernandes Vial. Aside from football it was also the site of major events like concerts.
However, the size proved problematic for the municipality as Collao's structure began aging. Not only that, the city has one problem fairly unknown in some parts of Chile – heavy rainfall. Combined with wooden benches and uncovered stands this led to poor spectator conditions and rapid deterioration of the structure.
Salvation came in 2012, when the stadium was listed for Chilestadios redevelopment program ahead of Copa America 2015. Reconstruction brought complete upgrade of the building with renovated concrete, expanded upper stands, new roof and various more amenities. Thanks to the expansion its capacity is still impressive despite installing individual seats.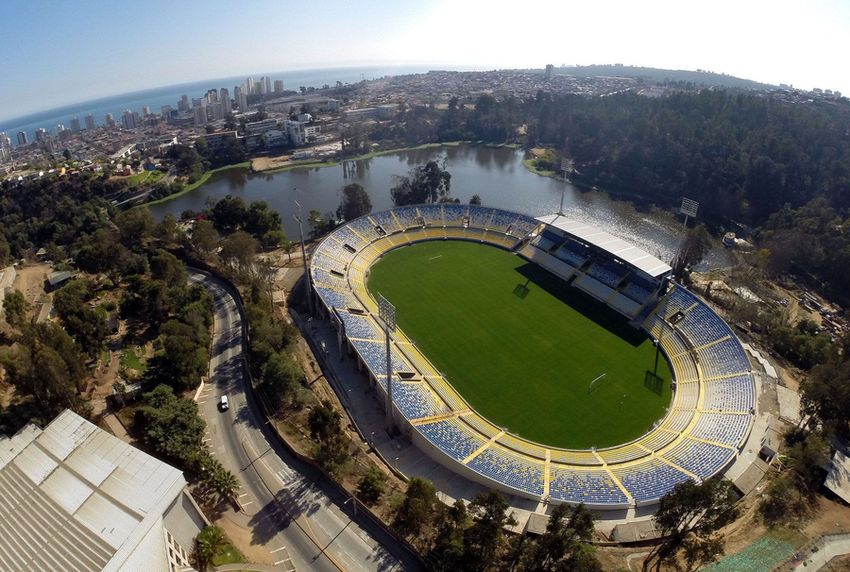 One rarely sees stadiums located so picturesquely. From the west this stadium neighbours a lagoon and from the east it's surrounded by woodland hills. In fact, the east stand uses sloped land as support since the stadium was opened in 1929. Initially it was configured to feature a cycling track between curved stands and the football field.
The single-tiered stands were able to hold some 20,000 people, but crowds in excess of that number were no rarity. Record game against Colo-Colo in 1976 reportedly gathered over 30,000 people here. And aside from great domestic games, the ground also hosted the 1962 World Cup and 1991 Copa America.
Unfortunately, during the 2010 earthquake the stadium suffered severely. Roof over the main stand was removed and capacity had to be reduced to 7,000 over safety fears. That's why complete reconstruction was ordered in 2012, as part of preparations for the 2015 Copa America and U17 World Cup in that same year.
While the stadium's historical shape remained almost untouched (main stand is larger than used to be), nearly all concrete elements were replaced from the old stadium. Cycling track was covered by additional rows of seats, bringing fans closer to the actions.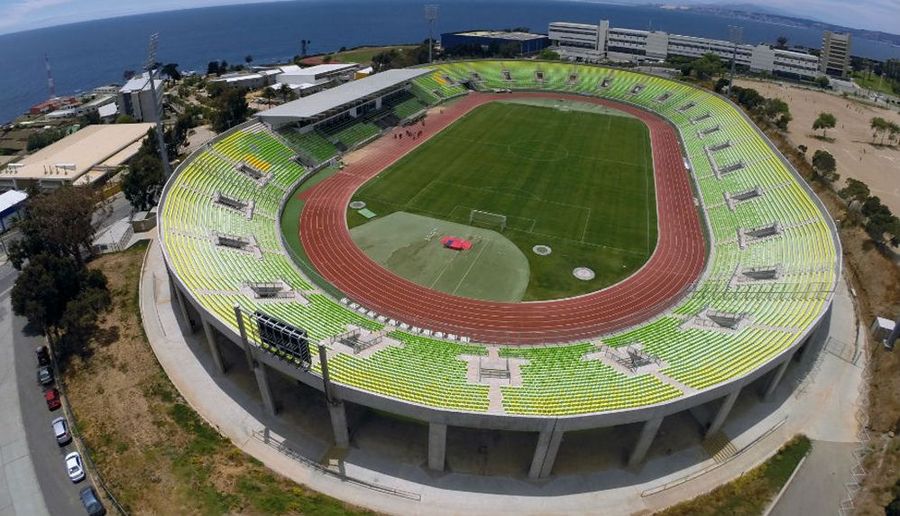 The stadium sits on the Playa Ancha Hill, stunning location nearly surrounded by waters of the Pacific Ocean. The location explains why locals popularly refer to it as the Playa Ancha stadium. Initial sporting venue at this location was opened on Christmas Day of 1931 and was known for decades because of its very decorative main grandstand's façade.
That historical part was retained as the old stadiums got demolished in 2012. New main grandstand has the front wall of its predecessor incorporated into a much larger structure, one holding both hospitality facilities and football museum. Remaining stands were built strictly around the running track and with quite steep incline, resulting in greatly improved sightlines. Higher stands hold over 21,000 people, an increase from former 18,500 terraced places.
Historically the stadium was first named simply Estadio Municipal (until 2005), then Regional as the city had to sell it after immense debt issues (until 2012). But after rebirth as a brand new structure financed by the Chilean government, the stadium began bearing the name of Elias Figueroa, local football legend considered the best Chilean player of all time.
Anchor tenants are the Santiago Wanderers, club established back in the 19th century. The old stadium was also used for the 1987 Youth World Cup and Copa America 1991. New one, after just a year from opening, was ready to hold the Copa America 2015 games.

First stadium in this location, near the historical city gate (thus La Portada), was opened back in 1952. But with constant use and after several earthquakes it was severely outdated and qualified for the Chilestadios program in 2012. After repeated tenders demolition began in early 2013, leaving nothing of the old ground.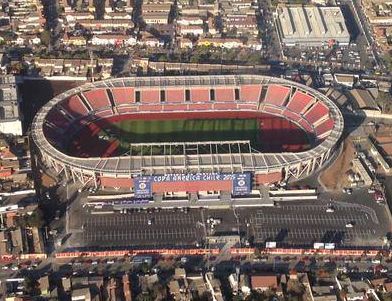 New one was slightly rotated eastwards to be more parallel with local road network. Designed by architects of the National Sports Institute (IND), the stadium is simple and original at the same time. Lower ring of stands holds some 5,000 people, while upper one 13,000 in 'sliced' single sections. They're all connected with steel crown of the roof, although it serves more as a sunroof (8,000 square meters) than actual shelter.
Construction ended in May 2015, just in time for Copa America 2015 hosted by Chile. Along the guidelines it meets most important FIFA and IAAF criteria for international tournaments.