Kazakhstan: Scandal in Astana, Arena roof leaking
source: Zakon.kz / Stadiums.at.ua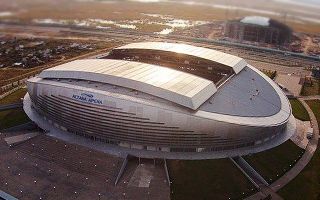 "Leaking" seems a mild word when you look at the downpour before Friday's concert. Despite retractable roof, the national stadium of Kazakhstan had parts of it flooded after storm.
It was the first time Muz-TV annual award ceremony was held in Kazakhstan. Astana Arena was selected for the Friday event as it offered over 20,000 capacity in weather-proof conditions. Or so it seemed until a severe storm hit the Kazakh capital, even called a hurricane.

A seemingly dangerous accident took place outside the stadium, when the step-and-repeat Wall collapsed onto actor Nikita Presnyakov. He suffered from head injury, but it proved not to be a serious one.
Inside there was more trouble, as seen in the clip posted by musician Sergey Lazarev. He recorded a literal downpour onto the stage just minutes before planned concert. In the end the event was held, though after great efforts to contain the situation.
Astana Arena operator hasn't commented on the problems, but Kazakhstan's Department for Physical Culture and Sports announced an audit will be carried out. Astana Arena is the first stadium with retractable roof to be opened in Central Asia in an attempt to provide year-round activities regardless of extremely harsh climate. However, contractor warranty ended in 2011, two years after opening.