USA: Reconstruction of the great bat house
source: StadiumDB.com; author: michał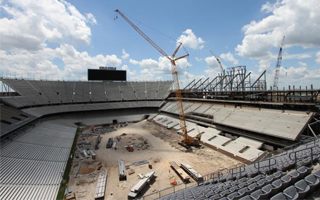 Today we bring you construction updates from Kyle Field. One of the largest ongoing stadium projects also happens to have thousands of evicted residents – bats that are now flooding surrounding the campus.
Though it's been ongoing since late 2013, the reconstruction of Kyle Field so far was only present as renderings on StadiumDB. Now we're changing this, courtesy of Texas A&M University and The 12th Man Foundation.
Thorough revamp of Kyle Field is one of the largest ongoing stadium projects worldwide and by far the largest operation in the stadium's 88-year history. Initially thought to be worth $450 million, works are now priced at $485 million (€435m).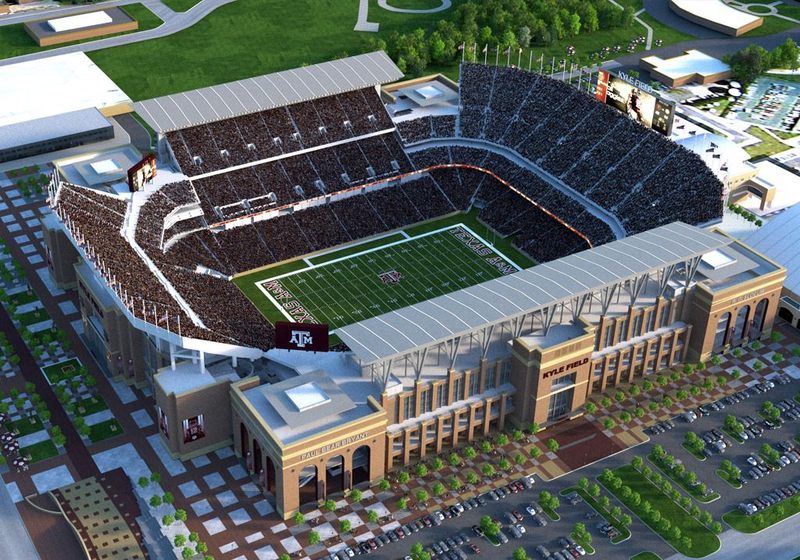 © The 12th Man Foundation / Aggies Athletics
As a result the east stand was given a new lowest tier and amenities for fans, east stand is being built from scratch (previously vacant end) and the western main grandstand was demolished and is on course to be rebuilt by August 2015.
Capacity increase from 82,600 to 102,512 will make it one of the largest stadiums worldwide. Meanwhile outer appearance will change from a rough mix of concrete and steel into a more elegant and "academic" brick facades and columns. These are still only decorations placed atop steel skeletons, but the identity and profile of Kyle Field should improve when all work is done.
© The 12th Man Foundation / Aggies Athletics
In terms of aesthetics, scope of the alterations and business model, the stadium is hardly unique from a European perspective – it's going the same way several other of the largest NCAA stadia went. But what certainly sounds like a first here at StadiumDB is the latest report by Star Telegram about the stadium's unexpected role as bat habitat. Being the largest structure in College Station, Kyle Field used to be home to tens of thousands of bats. At peak migration times even hundreds of thousands.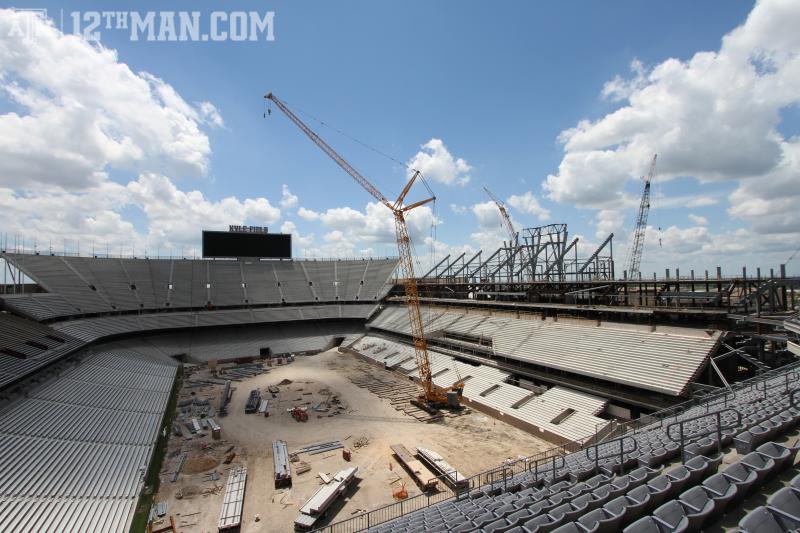 © The 12th Man Foundation / Aggies Athletics
The presence of bats was so prevalent that university officials hung signs in the stadium warning fans that they were entering a "bat-friendly stadium". In the end friendship with those likable mammals proved difficult as constant presence of guano was hard to endure around places where food was prepared/sold.
Ahead of the 2013 redevelopment efforts were made to relocate bats. Special nets were installed that allowed the animals to fly out to feed, but prevented them from returning. The site was cleared, but it proved problematic for the remainder of the A&M University campus. Bats began to swarm any building they could find shelter in, including local natatorium, even dormitories.
When the renovations began, some of the students studied the issue and made recommendations to the school. They suggested following the example of the University of Florida, which had a similarly large bat population living inside its stadium. When that school forced its bats out its stadium, it built a group of large outdoor bat houses elsewhere on campus.
The structures in Florida looked like the roofs of old houses, only without a building underneath. Eventually, thousands of bats moved in, and the houses became popular local attractions.