Russia: Groundbreaking in Kaliningrad this summer?
source: Stadiums.at.ua / Kgd.ru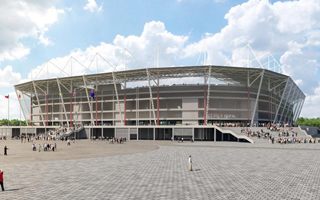 It's officially the most delayed stadium of the 2018 World Cup. Groundbreaking is expected around August-September. Although it should still be finished ahead of FIFA's deadline.
Crocus Group, general contractor of the Kaliningrad World Cup stadium, must have their final project documentation approved on June 1 in order to progress. If that happens, workers should enter the site in July and actual construction may begin in August, possibly September 2015.
With such late groundbreaking time, the stadium will be the last to move forward of all host venues. However, it should also see much faster construction as the design (subject to final examination) was simplified as much as possible.
One issue left open regardless of the groundbreaking is the stadium's outer cladding. As the below rendering shows, the stadium was presented with a neutral, nearly transparent webbing.
Meanwhile Crocus presented several variants of the membrane to Kaliningrad government and officials added their proposals as well. Final version is expected to be as decorative as possible to become a true landmark of the October Island.