New design: Airy Californian stadium for San Diego
source: StadiumDB.com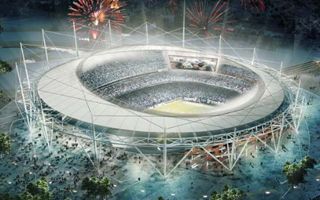 It doesn't protect from rain too well, but should be great for shade which is more needed. Its tall masts are to resemble yachts and at $1.2 billion it's equally exclusive for a stadium.
Yesterday authorities of San Diego presented their alternative for NFL side Chargers, who plan on moving to a new shared stadium in Los Angeles.
The concept was delivered by public working group CSAG (Citizens Stadium Advisory Group). As part of the evaluation CSAG indicated the current stadium location as preferable to downtown San Diego. The new stadium would hold 65,000 people on regular basis and 72,000 for large events, possibly more for concerts. It would fit both the American and association football fields.

The proposed financial structure is a combination of several models. Chargers would have to cover more than any other entity. First $300 million for construction, then $10 million per year in rent, plus a share in revenues from personal seat licenses, tickets, parking and commercial rights. 75 acres (30 hectares) of land adjacent the stadium are to be sold to a private investor for $225 million. Further $200m is to be covered by the NFL, while the city and county would fund $121m each.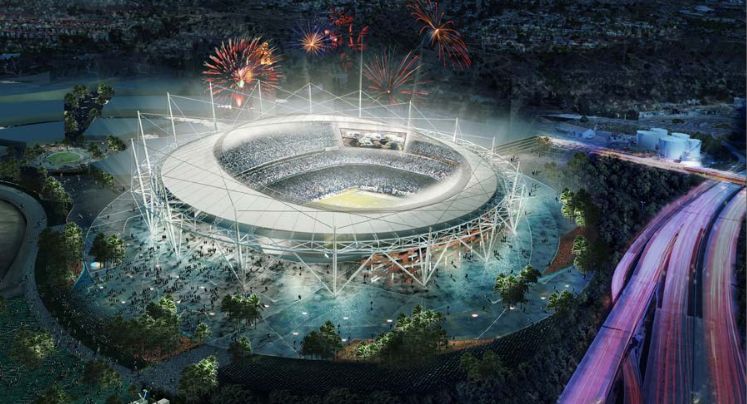 The indicated financial model is suggested to generate more than the project requires – up to $1.4 billion. The 65,000-seater needs $950 million and some 1.2 billion together with nearby commercial and leisure developments. One major win for the broader public would be a large park along the San Diego River.
Architecturally the project was developed by renowned office of Meis Architects, who used interesting guidelines. The aim was to create a semi-open stadium that would benefit from the warm and mild climate. This is why public concourses and corporate hospitality areas won't be enclosed. Aside from ventilation, this also aids cost-efficiency and future maintenance costs due to lack of solid façade and closed rooms requiring heating/cooling.
The roof in a circular form would cover only some fans from the rain, but this isn't an issue. Instead, its shape and height provides shade for vast majority of users, while maintaining an open feeling. Also, the light steel-membrane composition becomes the iconic part of this design, standing out like masts of yachts on the horizon nearby.