Russia 2018: Stadiums 30-40% more expensive
source: stadiums.at.ua; author: michał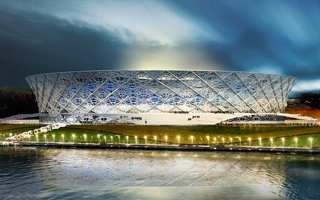 Russian sports minister confirmed stadiums may again prove more expensive than expected. Each of the ongoing projects may cost 30-40% more, coming after previous 50-100% increase.
Vitaly Mutko, the sports minister of Russia revealed taxpayers may expect further increase in stadium spending ahead of the 2018 World Cup.
"Strengthening of the dollar and euro, along with growing inflation of course will impact stadium price. Plus, we signed some contracts in dollars and acquiring dollars became more expensive", said Mutko.
Recently the Russian government issued an order to public investors to replace imported elements in stadium construction with domestic equivalents. This is one of the measures hoped to prevent further price increase.
Initially, after being selected by FIFA, Russia planned to spend within RUB 10 billion on each stadium. However, the price went up by 50% as the limit moved to 15 billion for average group stage venue and then went further up in most cases, only with the Samara stadium expected to stay under 15 billion. Currently even that building may exceed 20 billion in total price.
While all that growth seems immense, it doesn't represent a significant increase when compared to current exchange rates in dollars and euro. In fact, the news seems to be more of an adjustment caused by weak ruble and strong dollar. As an example, 20 billion rubles today represents $400m. On that same day two years back it was $640 million.