New Stadium: Avaya Stadium officially opened
source: StadiumDB.com; author: michał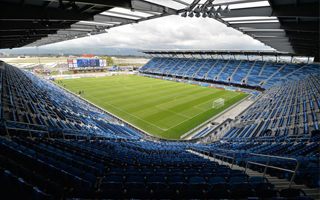 After 2.5 years it's finally open. Avaya Stadium enjoyed its first sell-out crowd last night and San Jose Earthquakes enjoyed a win. The fans also have things to enjoy as the Quakes get their home!
It's a story like many others in the MLS: a well-established franchise is effectively homeless for a long period, rotating between various available grounds while searching for a place to call home. First announcements from San Jose Earthquakes owners about the new stadium by San Jose International Airport date back to 2007. After two years first renderings of the planned building were presented, showing the 18,000-capacity venue with no stand in the north.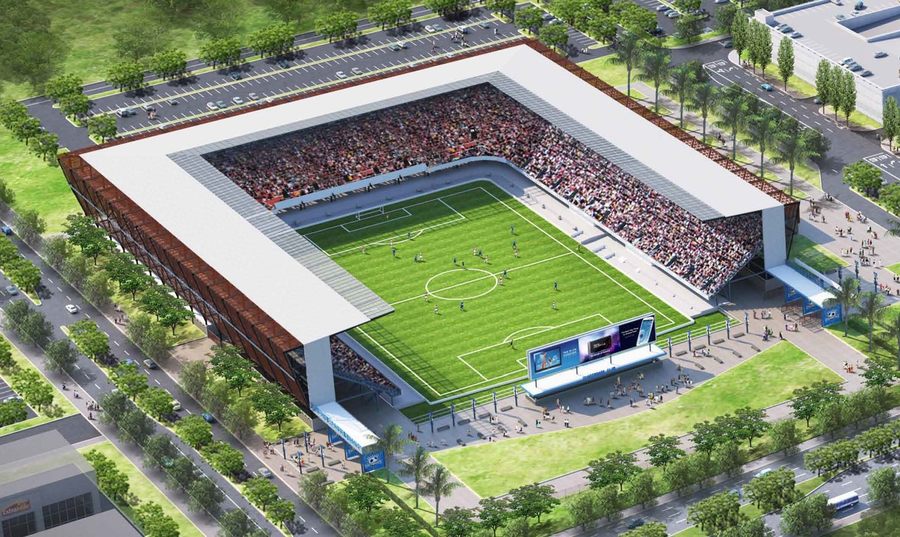 © San Jose Earthquakes
Compact bowl and "European" roof
It's the stadium's layout that became its most distinctive feature, too. Nearly all fans are seated in the upper tier, some 3 meters above promenade level. Here 30 rows at an angle of 30 degrees provide very compact feel and great sightlines. Below that tier only 5 rows with party decks, 16 lounges (initially 12 were planned) and a southern standing terrace are located.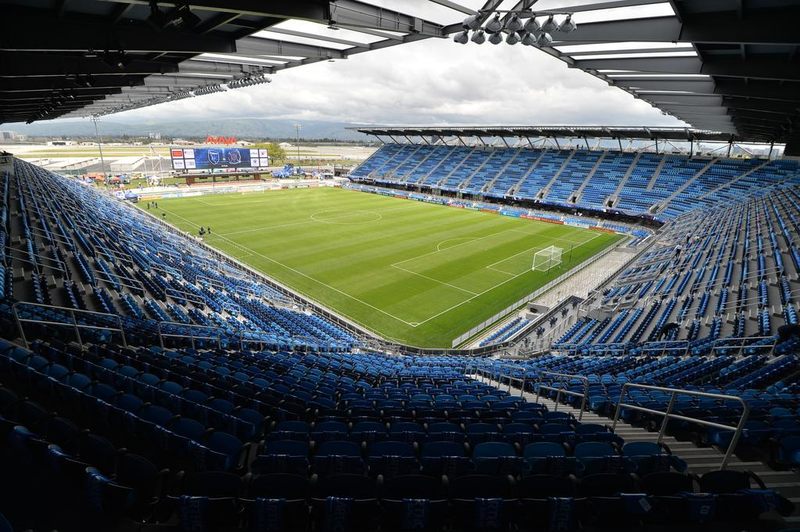 © San Jose Earthquakes
HOK Architects (360 Architecture when design work began) also designed a flat roof reaching 27 meters inside the stadium. Hanged just over the last row it provides a more intimate feeling and amplifies atmosphere. It was advertised as a "European" feature, but there is in fact no structurally similar roof in Europe.
The open northern end provides what proved to be North America's largest open-air bar with nearly 338 square meters for clients, offering everyone a view of the pitch. The bar is located at the base of Avaya Stadium's giant screen, which provides displays both inside and outside the stadium.
In recent days a seismograph was also installed at the stadium to monitor activity. As the club's name suggests, there may be some shaking during atmospheric games. The structure is perfectly safe of course, but steel transfers vibrations better than concrete, which may get caught on the seismograph.
Social-media-friendly
As the technological partner Avaya secured naming rights for a decade, special focus was given to technology. The stadium is described as cloud-enabled, was opened along with high-speed WiFi, special app that facilitates using social media and even with a possibility of displaying one's posts/photos/tweets across the stadium's video systems.
Later and costlier
Construction was launched officially in October, 2012. It was to end by the 2014 MLS season, but meeting such deadline soon turned out impossible as obstructions were found during ground works. Delivery was postponed until mid-2014 and then early 2015. The latter date proved to be final and a sell-out crowd watched Earthquakes beat Chicago Fire in their opening game last night, following a soft launch against LA Galaxy.
Appreciating the financial impact 12,000 season-ticket holders for 2015 season had on the project, their names are commemorated on a special wall. Financing was a challenging issue as the budget inflated from initial $60 million to some $100 million in 2015. And even that was possible by dropping the outer wrap presented in all renderings. Outer cladding is still planned, but without specific timeline.