England: Bournemouth assure expansion is coming
source: BBC.co.uk; author: michał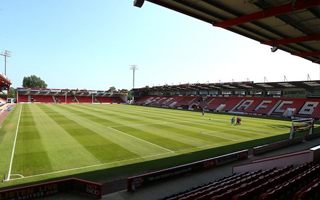 Their ambition is to advance to the Premier League, but it's not easy with one of Championship's smallest stadiums. Now AFC Bournemouth reassure their fans: expansion will happen.
It's been quite a while since AFC Bournemouth began contemplating their Dean Court stadium expansion. Built in 2001, the ground had just over 10,000 seats on three stands. Last year they added a modest fourth end, reaching 12,000 (11,700 with segregation of home/away). But with the club's great leap on the pitch, it's still below ticket demand.
At one point Bournemouth even considered leaving the decade old stadium for a new ground, but that plan is now scrapped. Dean Court will grow again to make up for the loss in turnout compared to other Championship clubs. With 9,951 fans on average the Cherries are well below 16,600 league average and want to add more sections to the stadium.

Fot: Matthew Jackson (cc: by-sa)
Chairman Jeff Mostyn assured fans in recent BBC interview, the plan of expansion will be implemented. "We know we can expand to 15,000 without any problem and hopefully look at further development," Mostyn told BBC Radio Solent's Sportshour show.
"We've spoken before about filling in the corners and that would probably take the capacity to 18,000."
"We will expand the stadium, we have the ability to expand it and we want to fulfil our aim of getting to the Premier League, the only thing I can't tell our supporters is when," added Mostyn.
"Promotion is not the catalyst. What we have to do is keep our feet firmly on the floor as a team and take the "one game at a time" mantra. However, off the pitch running as a business we have to be prepared for what we hope will be the fulfilment of all of our ambitions."