Colombia: Stunning flag celebrates 101 years of Independiente Medellin
source: StadiumDB.com
Officially the largest flag ever presented in a stadium. Unofficially: one was bigger, but too big to present it inside. Anyhow, this one is mind-blowing with 32,000sqm.
As the Colombian "El Universal" wrote a few days ago, this flag is expected to enter the Guinness World Record book. And all indications say it should, because the declared size outgrew all other majestic "banderas" presented in Latin American stadiums.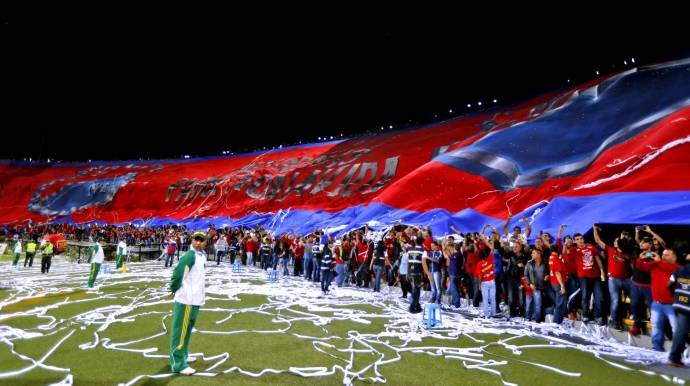 Every record needs a worthy presentation and a great opportunity in Colombian Medellin came on Nov 15, when Independiente clashed (and won 3:2) with renown rivals Deportivo Cali. Estadio Atanasio Girardot packed to its 40,000+ capacity and resting around the pitch the great flag. See what happened then from two different perspectives:
The stunning flag is officially declared to cover 32,000 square meters and if that number is correct, it's indeed the largest flag ever confirmed to be presented in any stadium. Not by far though, last year supporters of another Colombian team Millonarios and Uruguayan Nacional both displayed amazing flags of 30,000sqm each.
The official record may be confirmed for Colombian supporters, but some Argentinian fans still have a reason to smile. A shocking 8km-long flag by River Plate supporters covered over 35,000sqm, just wasn't possible to present in full in any stadium. It simply spanned through the streets of Buenos Aires in 2012…
But the record flag from Medellin also has an interesting story to it. First of all, why present it for Independiente's `101st birthday? Well, eventually the flag was ready last year, but at that time covered only one stand. This is when its initiator Sebastián Rondón figured out it can get better and become the greatest ever with more work put into it.
And indeed a lot of work was put into this project, because (contrary to many other flags) this one has no official sponsor and its immense cost of 200 million pesos (€75,000 / $93,000) was covered primarily by donations from individuals.
The flag doesn't only commemorate the anniversary of Independiente, it also marks 15 years of the local barra brava – organized fanatic part of the following. This is why not only faces of football legends are presented on the flag, but also images of supporters who passed away.