Fandom: Meet the world's largest flag. Or a few of them, actually!
source: StadiumDB.com; author: michał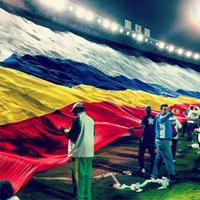 On Wednesday Colombian side Millonarios had fans reveal a flag that has hardly any match ever. They claim it's the biggest, but some would definitely argue. Agree or not, all of the record-candidates are stunning!
In England you can only wave flags when the game isn't played. In Poland fans are getting banned from presenting anything they might cover themselves with. But regardless of various imposed regulations there's always the competition between fans of different clubs that makes the beautiful game even more beautiful.
One of the areas where supporters run a constant armaments race are the giant flags. Bandeira / trapo / bandera / sektorówka – no matter how it's called in your language, here is the very biggest of football flags.
Before we start, please note these are not all the world has seen, they're just those most well known and those we managed to have (relatively) accurate dimensions of.
One
Fans of Colombian Santa Fe presented their 'Lienzo de fe' (Cloth of faith) in 2007. Measuring 350x36 meters (12,600 sqm) it covered half the stands at Estadio El Campin. The sheer scale of the initiative caused fans to rely on sponsors for financial help, giving them a piece of advertising space in return.
Since its first presentation the flag had to be replaced by a new one, as maintaining a piece of canvas weighing well over a ton is a real challenge. Not even mentioning the logistics of carrying into the stadium, spreading over the heads of fans and then getting it safely back – it's work for dozens, or actually hundreds of people…
Two
In 2011 the Uruguayan powerhouse Peñarol joined the competition with their massive yellow-black sheet, measuring 309x47m (14,523 sqm). Worth mentioning, the Estadio Centenario is almost perfect for this kind of display with its spacious, open stands. Despite being shorter, the flag still managed to have a bigger surface and made a really stunning impression, once presented:
To make the dream of such a flag come true, local 'hinchas' had to campaign a few months, selling their own merchandise and collecting money. Final budget of the giant, weighing 1.8 ton and requiring some 350 people to get inside the stadium, stands at some $35,500.
Unfortunately for Uruguayan supporters some question their flag's record for the difference in length, which brings us to the ever-ongoing dispute: what counts most, what counts at all? Is it the length or the surface? Should flags created by external companies count? Can sponsors be involved? We're not even trying to answer what seems to be a very individual issue, but we're happy to be watching this amazing race for supremacy!
Three
By the time Peñarol joined the pack, neighbouring Argentina already had their rivalry well under way, to name just the amazing bandera of Racing Avellaneda (250x30 meters). But not every club uses a stadium big enough to challenge the 'big boys'. Racing's flag was already too big for their stands .
But less known Argentinean club Talleres took the opportunity of their Estadio Mario Alberto Kempes being expanded to try and compete. In 2011 the plan began, aimed at reaching a massive 380x50 meters. In the summer of 2012 it proved to be a bit smaller at 380x45 (17,100 sqm), but still enough to grab the lead. Here's its presentation in October, celebrating the club's 99th anniversary:
Four
We're now getting to the events of last Wednesday. But not just yet, as the history of this flag goes back to 2011. Yes, fans of Colombian Millonarios (derby rivals of Santa Fe, first flag creators) focused on getting their bandera done 'by the book' – by fans and for fans only, with no external funding. To cut costs they got some of the mothers sewing.
They first displayed their flag, when it was 200x40 meters. They later added another 100 to it and ahead of this week's presentation media were informing of hopes to beat the 600-meter mark. If the data presented by their club is correct, the flag managed to go much further than expected, reaching 750x40 meters (30,000 sqm), covering the stadium in 90%!
Of course the sole process of carrying it inside required over 500 people. The expense was huge, standing at 120 million pesos (some €50,000 / $65,000), if we consider that fans kept their goal of doing it only by themselves.
Five
Just one day after the astonishing record in Colombia one more attempt was done. It was in Uruguay again, where Nacional decided to beat derby rivals Penarol, showing to the world their 600x50m (30,000 sqm) bandera. Though they managed to take the lead domestically, their flag seems to have the exact same surface as Wednesday's one from Bogota.
Beyond classification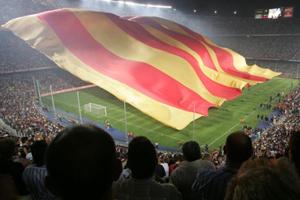 We go back to the important questions of what counts. Should the impressive FC Barcelona flag of 2004 be taken into account? Its size was enough to break a world record (113x116m, 13,108 sqm), but it wasn't neither done by fans at all, nor presented by them. To make it more impressive, it was brought down on steel cables installed over the stands and pitch. That not being a community initiative, no wonder many fans refuse to count it in their race…
And while we're at flags not presented on the stands, there's also a great competition going on outside stadiums. In 2003 supporters of Besiktas carried a black-white striped flag through the streets of Istanbul. They were celebrating both their club's centenary and championship, but what is remembered to this day is the flag itself, 2,000 meters long (8m wide, 16,000 sqm). But that record, just like the flag itself, is now torn into shreds.
It was broken by Argentinean Rosario Central supporters, who beat the Turks by creating a flag only half as wide, but over twice as long. With similar surface (18,270 sqm), their banner was 4,350m long and 4.2m wide.
Currently the record remains in Argentina, but it's no longer at Rosario, not by a long shot (quite literally). This time it's River Plate, whose fans made a display impossible to catch on a photo and extremely boring on video. Any footage simply has to show 15,000 people carrying a flag of 7,830 meters (7,829.74, to be exact). With 4.5-meter width it's not only the longest, but also the largest in terms of surface at 35,235 sqm. Below you may see the first street flag we covered here, carried by Turkish supporters. It's the only one we managed to find a good photo of because of the sizes, obviously…