New: Current and future "Fans' Stadium"
source: StadiumDB.com
It's a solid Hollywood material, but this is happening in real life. Wimbledon wins against the team who ran them to ruins 12 years ago. Next step? Building a stadium to rebuild former glory for good.
Not in the league yet, but the historical moment of glory came to AFC Wimbledon fans after years of waiting. On Tuesday their team defeated MK Dons away, making quite a few headlines. And rightly so, because the club once destroyed to help build MK Dons now is back thanks to thousands of its supporters. It took them 12 years, but they had to start with literally nothing, beginning in the 9th league.
Poetic justice? Sort of, because now Wimbledon are playing just one league lower than MK Dons, who never became as successful as planned. But daily operation of both clubs is still far from comparable and not at all poetic for "the real Dons". With one of the lowest budgets in League Two they're mid-tabled now, while MK Dons are again hoping of grabbing a Premier League play-off spot at the end of the season. And while MK Dons play at the shiny Stadium MK, Wimbledon are in a different place…
The municipal athletic-football complex in Kingston (south-west London) was opened in 1989 and has served as home to Kingstonian FC since. The club was anchor tenant until 2002, when AFC Wimbledon came in and took over. The side resurrected by supporters also used the supporters determination and financial effort to become primary tenants.

© AFC Wimbledon
As they moved in, supporters renamed the ground to "The Fans' Stadium". At the moment of their relocation, The Dons were beginning their long way back to glory. But the rapid climb upwards forced renovations soon. In 2005/06 the west "Tempest End" stand was covered, while in 2008/09 the main stand was expanded. Finally, in 2012 a brand new east end was established, leaving only the south side very much as it was in the opening days of the stadium.
Eventually Wimbledon are planning to relocate to Plough Lane, where their old stadium used to be. Though it was demolished a long time ago, major redevelopment of the area allows for a new one to be set there…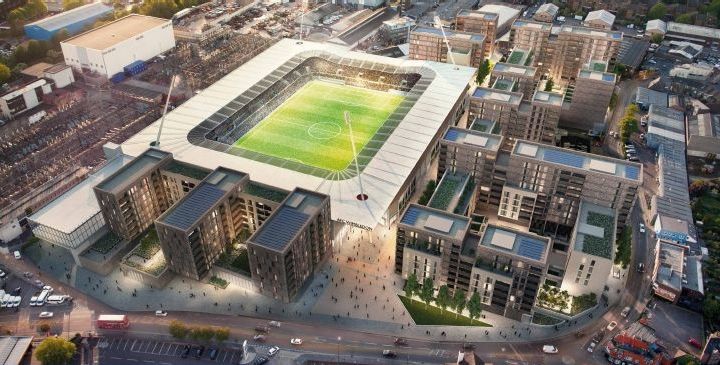 © AFC Wimbledon
In 2013 AFC Wimbledon teamed up with Galliard Homes, a major residential development company expected to provide much of the capital to fund the new stadium. In return, Wimbledon's new home brings a community value to the 600 apartments that would surround it in three separate buildings. Together the two created a proposal for the 5.1 hectare site's redevelopment.

© AFC Wimbledon
Importantly, Wimbledon would only get one permanent stand within the first phase – the main one in the west. Together with skyboxes and other commercial facilities the stadium would enable revenue increase, while three temporary stands should bring capacity up to 11,000 for starters.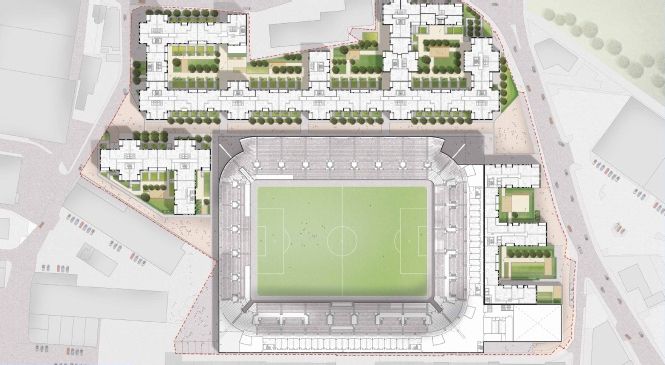 © AFC Wimbledon
Later, should demand grow steadily, expansion would be possible within the same blueprint, also including floodlight masts from the first phase. With an entire bowl of single-tiered seating the stadium's capacity might reach 20,000.
Final decision on preferred redevelopment bid is to be taken in spring 2015. Should Wimbledon win approval of the Merton Borough authorities, groundbreaking might take place already in October 2015. With timely delivery the new stadium should be ready for its first game in the summer of 2017.