Liverpool: Not all take kindly to Everton's plans
source: StadiumDB.com / LiverpoolEcho.co.uk; author: michał
Relocation to a brand new 50,000-seat stadium at Walton Hall Park? Not if these residents succeed. So far public consultations have only started, but level of scepticism seems very high.
First of what is announced to be a series of demonstrations took place earlier today in Liverpool's Walton Hall Park. Local residents, estimated by The Liverpool Echo to turn up in their hundreds, protested against Everton's plans to build a new 50,000-seater stadium on the site.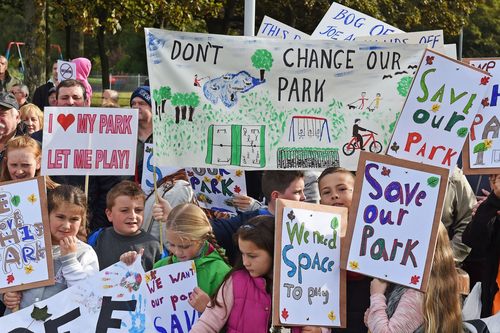 It's been just two weeks since the club officially began planning on their future relocation from Goodison Park just a mile north and already now the opposition seems to be stronger than it was in the case of Anfield's expansion, where residents felt they weren't listened to by authorities. Now public consultation is to be carried more thoroughly and it's not going to be easy. The list of opponents already has over 2,000 signatures.
Liverpool Mayor Joe Anderson recently stated the Walton Hall Park is underused and should be included in a broader redevelopment program, which would include building the stadium, retail and homes. But residents argue it's not underused at all. Running, cycling, fitness programs, facilities for the disabled, fishing pond, smaller model boat pond and last but surely not least – the environment provides shelter to animals of all kinds.

It gets more interesting when you visit the Liverpool city website, where authorities confirm it's a very popular leisure destination. Daily activity/event calendar is packed with 5 or more events every day with occasions of lower use being very few.
So far the Everton stadium scheme is barely off the ground, no details have been established. However, it's understood the stadium would only take a portion of the park, which may become an important argument in the debate. Mayor Anderson also assures the redevelopment might bring up to 1,000 jobs to the neighbourhood.
At what price – the residents seem to be asking as they name the issues with 50,000 people invading the congested housing area every second weekend. Chrisie Byrne of the Friends of Walton Hall Park said: "The residents do not want to deal with the rubbish, noise and traffic this will inevitably generate to our area. The Goodison ground is a mile away from the park and already has an impact on our area through parking and noise pollution, so we do not want it on our doorstep."