Russia: Fisht Stadium soon under construction again
source: kommersant.ru; author: michał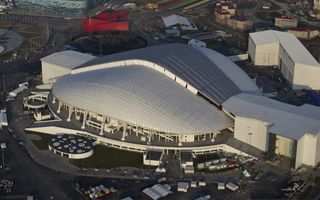 Though already among the world's most expensive, the Olympic stadium in Sochi will cost a whopping RUB 3.5 billion more as redevelopment contract is awarded, Kommersant informs.
On September 15 the prime minister Dmitri Medvedev signed a contract with SMU Krasnodar, company chosen as general contractor for the revamp of Fisht Olympic Stadium. The price tag is RUB 3.5 billion (€70m / $90m).
For this sum SMU Krasnodar is expected to dismantle the temporary roof covering future football field. The field itself is also part of the contract, requiring the removal of temporary staging platform on which artists performed during opening and closing of the 2014 Olympics. And finally two vast warehouses built on both ends for ceremony needs will be gone, leaving room for new seating behind goals, raising the capacity by roughly 5,000.
The contract raised some controversy, though. First of all, the price tag on this stadium is already immense. Budget per seat is among the very highest worldwide, while the final price is still unclear. Depending on who does the estimates it's between RUB 17 and 23.5 billion (€340-475m / $440-605m). This amount doesn't include the currently signed contract.
There is also the issue of awarding procedures. There was no open tender for the works, which is an exception allowed by law in order to swiftly run the 2018 World Cup projects. Meanwhile the owner of SMU Krasnodar is Yuri Kleshchenko, former deputy for urbanism and construction in the Krasnodar State authorities. Kleshchenko himself assures his role in 2004-2005 was a brief one and has nothing to do with his current work in the construction industry.