London: Wembley has a new spark
source: StadiumDB.com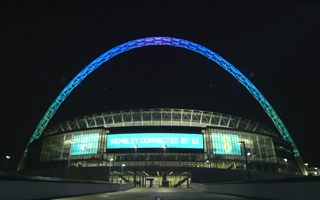 Partnership with mobile giant EE brought the first major change to Wembley since its naming rights deal. The stadium's massive arch was equipped with hundreds of LED lamps to create a stronger image.
Last week saw the official launch of Wembley iconic arch's new feature. The structure rising 133 metres above ground was equipped with 228 large LED lamps. This means now it won't only be illuminated at night, but may also display moving images. Of course its specific shape limits the technology's potential, but is still very impressive.
Eventually, from March 2015, the system will be able to react to its environment. This means dynamic lighting when a goal is scored, but also interaction with social media. The arch will be able to react to Twitter's trending hashtags or other activities of users.
Of course it's also meant to serve a more traditional purpose – increase commercial value. The arch could already be seen in the blue-yellow colours of EE. The mobile solutions provider promised to bring innovative features to Wembley when they signed the stadium's first ever naming rights deal.
This is expected to become the most distinctive feature introduced, quite literally. The arch spans at over 310 meters and is visible from miles away, now being even stronger part of London's skyline.