London: Wembley with first sponsor, but name remains
source: StadiumDB.com; author: michał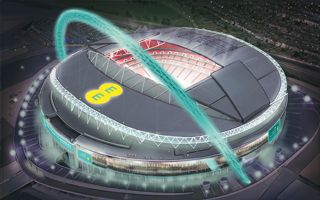 Though nobody used the term 'naming rights', both the stadium logo and name have changed. From today England's largest stadium will be known as 'Wembley powered by EE'. First such partnership of Wembley was preceded by high scepticism.
From today the new commercial name of England's largest and most famous stadium will be Wembley powered by EE. The company, previously known as Everything Everywhere, is the leading telecommunications provider, a meaningful fact for Wembley.
"As stadia around the world become increasingly more technologically advanced, EE is the perfect partner to assist us in fulfilling that goal, giving event owners and their fans the best possible and unforgettable shared experiences." said Melvin Benn, Wembley chairman.
As part of a planned 'technology road map' to be delivered during the six-year deal, future technological advancements from EE include mobile ticketing solutions, enhanced mobile network access and super-fast Wi-Fi available for all. EE customers will benefit from exclusive ticketing and marketing initiatives from late March.
Complete value of the contract hasn't been revealed, but EE is expected to invest 'multi-million' amounts to upgrade Wembley's technologies. The stadium also changed its logo and upcoming signage across the stadium will also include the colours of EE.