Valencia: The future Mestalla still uncertain
source: ElConfidencial.com /StadiumDB.com; author: michał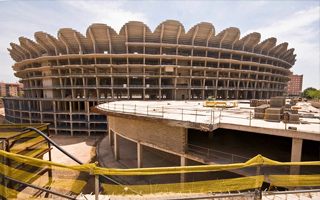 New owner took over at Valencia, but at the same time withdrew some of his previous declarations about the new stadium. Delivery of Europe's largest deadlocked stadium is again in doubt.
Exactly 10 years have passed this May since Valencia's last great success. Today the club is drowning in debt and the unfinished stadium is one of VCF's largest burdens. Els Taronges managed to deliver the concrete skeleton of new 75,000-capacity stands back in 2009, but haven't moved forward since.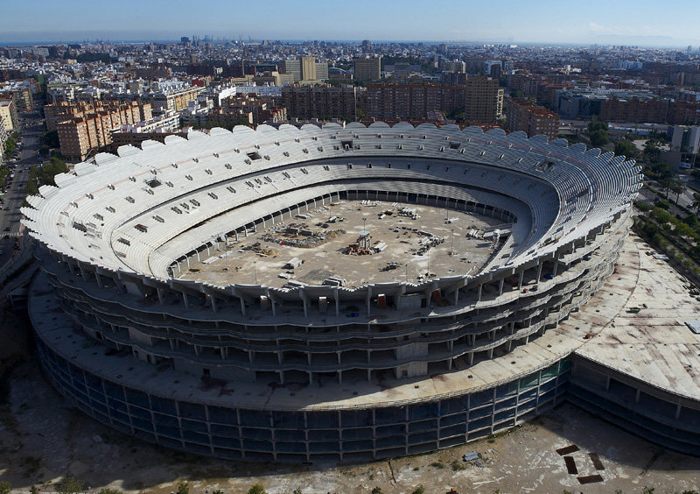 Last year, the club asked Mark Fenwick's team of architects to remove anything that's not essential from the stadium design. As a result capacity was reduced to 61,000, surplus commercial space cut out and the roof will no longer cover all fans, leaving 25% without shelter. These cost-cutting efforts, seen below, led to a reported reduction of delivery cost from €244 million to €100 million.
This alone didn't solve Valencia's financial misery, but Singaporean investor Peter Lim is hoped to help with that. In May he won the approval of the Valencia Foundation and secured over 70% of Valencia's shares. Upon takeover he announced to continue with Fenwick's stadium plan and deliver the stadium in UEFA's highest standard.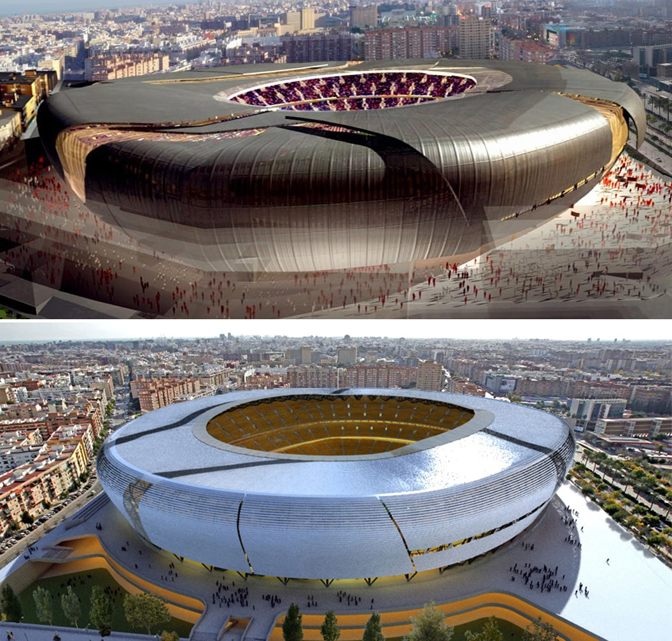 However, the final deal wasn't signed until last week, when Lim ended weeks of negotiations with Bankia, the club's main creditor. According to El Confidencial, the current agreement no longer holds any assurance of either the final design, nor the stadium's standard. In fact, there's no mention of delivering the stadium. The only exception is a loose expression of will to open new stands in time for Valencia's centenary in 2019.
To enable the club's re-growth and delivery of the stadium, Bankia agreed to release Valencia of any payments for as long as three years. This period is expected to allow the Singaporean investor to build a Champions League team. Success is the boost needed to increase Valencia's turnover to a level that would allow repaying debt and progressing with the stadium.