Valencia: New plan to deliver Nou Mestalla, smaller and cheaper
source: StadiumDB.com; author: michał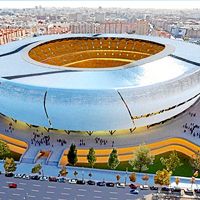 It will soon be 5 years since work was halted in Valencia and the concrete skeleton cannot wait much longer. So Valencia CF and stadium architects Fenwick introduced an 'economic' version of the stadium, reducing required budget by 40%.
Once the concrete shell of three-tiered stands was finished in early 2009, the new stadium's construction was halted due to VCF's dramatic financial situation. Since then we've seen numerous declarations of plans to resume the project, but none ever came to fruition.
Now there seems to be a bigger chance as Valencia and Fenwick Iribarren architects presented the updated vision of what was initially designed back in 2006. The total budget of Valencia's future stadium was to stand at even €344 million ($460m), of which roughly €100 million has already been spent.
With Valencia's trouble in securing loans to acquire the lacking €244 million, the plan had to be downscaled. Current budget should stand at €200 million altogether, meaning a 40% decrease in expenses and much bigger chances of making the new stadium actually happen. Whether Valencia is able to secure the missing €100 million remains to be seen, however we can already see the changes implemented in the design. Please see the video released by the club below:
Overall changes to the design will see final capacity drop from 73,200 to 61,000 seats. New facades will be simplified as much as possible, but still to retain its 'city map' theme with translucent lines cutting the oval. Simple night-time illumination and more modest roof that will leave 25% of spectators in lowest rows uncovered. These are the means to decrease the budget by €144m from initial plans.
We have prepared a brief comparison of renderings for both the first and revised plans, which can be seen below: