Santa Clara: Harsh reviews of Levi's Stadium's opening night
source: StadiumDB.com; author: michał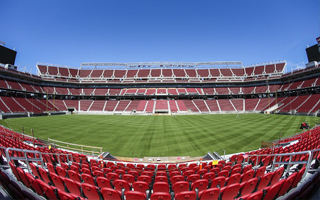 Saturday saw the first event at Levi's Stadium and also thousands of frustrated fans, who couldn't get in or out the stadium. The list of downturns is very long, though Levi's Stadium has a chance of making a great future.
Saturday's MLS game between San Jose Earthquakes and Seattle Sounders drew well over 40,000 people inside Levi's Stadium. Officially the turnout stood at 48,765. That's roughly 2/3 of the final capacity, but with the event's trial specifics the upper tier was left closed off.
Despite the limited capacity access infrastructure failed completely. Roads leading to the stadium were jammed well over one hour before kick-off and parking spots ended soon afterwards. This resulted in drivers flooding nearby neighbourhoods, exactly as feared by the community. Leaving the stadium also lasted more than the game for many drivers.
Similar issues arose with the light rail system serving Levi's Stadium. With no more than 3 carriages per train, the trains were filling up very fast both ways and were unable to satisfy the demand. As if this wasn't enough, crowd-flow at the Levi's Stadium station was handled very poorly, seeing people being forced to cross the tracks to reach their trains. For those fleeing Santa Clara towards San Francisco the evening trip took up to 2 hours.
While many things can still be done to operate at a better rate, some media outlets are asking if the rail/road network is able at all to serve the stadium at sell-out games. Organisers claim that yes, this should not be a problem, because on Saturday the nearby Great America theme park was generating much traffic, while it will be closed on 49ers matchdays.
Inside the stadium chaotic scenes were also quite common. Despite its massive 800 concession stands, Levi's Stadium couldn't cope with demand for many products on its first night, running out of beer in some sections even before game began.
A more sensitive issue is the situation of disabled fans, who also complained about basic problems like reaching the stadium or their seat at all. One of roads designated for them was reportedly closed off, while some seats simply weren't where they were supposed to be.
On the bright side, Levi's Stadium did show some of what's supposed to be its strength in the long run. High quality Internet connection and mobile app for ordering food to one's seat. Which, by the way, worked flawlessly according to testimonies we found via facebook and Twitter. Praise was also given to the stewarding staff, who were reportedly as nice and helpful as possible despite the stadium's test-drive quirks.
But is this all worth the $1.3 billion? Not according to Ashlee Vance, who reviewed the stadium for Bloomberg Businessweek. "[…] with Levi's Stadium, the 49ers had a chance to make a real statement. […]. The 49ers could have built something as beautiful at AT&T Park—something with character and unique architectural elements. Instead, they built something that is nice, functional, and unspectacular. Wasn't the whole point of Levi's Stadium to appeal to the ultrarich who spend their days immersed in technological wonder?" Vance asks, reminding 49ers that decent Wi-Fi is nothing to be proud of at that price.