Poland: Narodowy boasts volleyball record
source: StadiumDB.com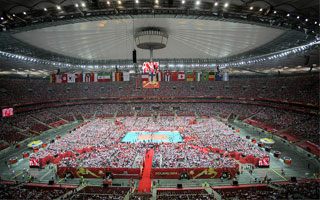 Stadion Narodowy in Warsaw witnessed a record crowd of 63,000 yesterday during the opening of Volleyball World Championship. That's quite an achievement, but is it the biggest volleyball gae ever? Well… no.
Poland's largest stadium yesterday became the largest indoor hall to host a Volleyball World Championship event. 63,000 people celebrated the hosts' victory over Serbia as the tournament opened in Warsaw. This exhibition game was the only one to be played at a football stadium and proved a real challenge for organisers.
With the 58,145-seat stands located as many as 37-61m away from the small volleyball field, temporary sections needed to be erected. It took a week to set up the 12,000-capacity sections, which also had to be extremely flat not to obstruct views for fans using permanent seating.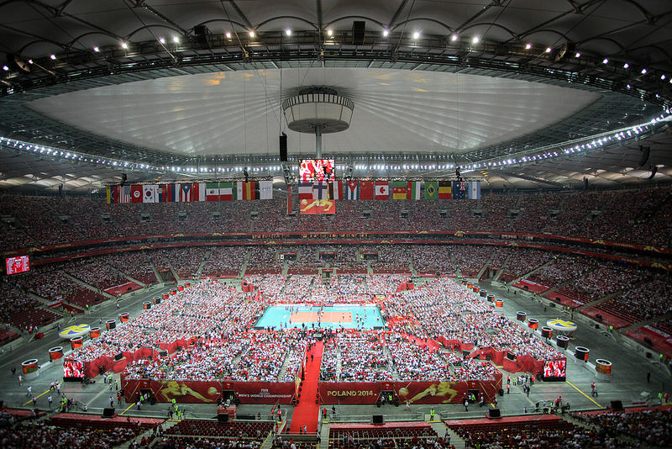 Photo: PolandMFA (cc: by-nc)
The result was perfectly satisfying according to stadium operators PL.2012+, but many fans disagreed angrily afterwards. The most expensive tickets near the pitch didn't allow spectators to see the floor of the field, forcing all of them to stand up and stay that way, fighting for the best possible view.
Meanwhile many people who paid for 2nd and 3rd category tickets in the lower tier of regular seats had to be relocated upwards to actually see any of the action live, not on the big screens. Ironically, tickets sold as least attractive (upper end stands, €11/$16 per seat) offered a much better experience. No wonder some people felt misled by the offer of their premium seating.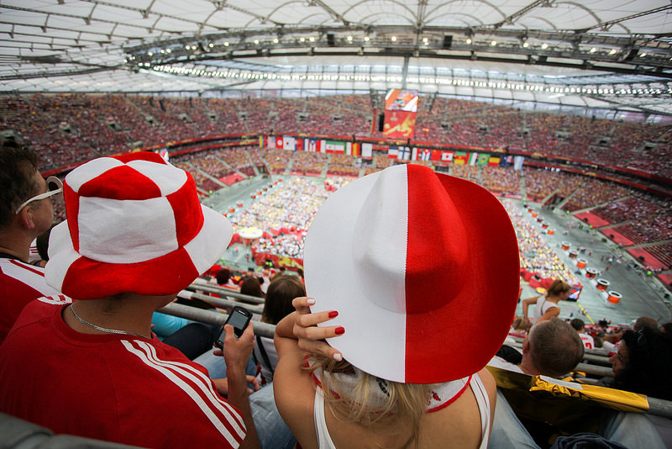 Photo: PolandMFA (cc: by-nc)
Despite these glitches the game was carried out with an amazing atmosphere, beginning with 63,000 people singing Polish national anthem a cappella. One single moment of disturbing booing was when the Russian flag was brought up.
The mood only got better as the hosts went on to grab an easy win 3:0 against renowned group rivals Serbia. The festive atmofphere and experience of being part of this historic event seems to be a great consolation for many of the fans with poor view of the pitch, judging by social media posts.
World record, but not really
As PL.2012+ informed after the game, getting 63,000 people in one place to watch volleyball is "an absolute record in world volleyball history". That claim is easily deniable by recalling how Brazil welcomed the USSR in 1980s at Maracana with over 90,000 fans in attendance.
But while yesterday's attendance isn't the largest of all times, it's still a record for any official volleyball game. The Brazil-USSR tie was a friendly one.
And surely 63,000 is an all-time high for Stadion Narodowy, which had its first record set during the Poland-Greece opener of Euro 2012.
Volleyball, athletics, windsurfing and some football
The Volleyball World Championship opening game is one of many prestigious events held at Stadion Narodowy. Next Saturday another global event, this time the Indoor Windsurfing World Cup, will arrive to the arena. Again, this will be the largest ever venue for a tournament of this kind. The two large events follow an athletics meeting last week (with Usain Bolt setting unofficial indoor record) and serve as evidence that the stadium is indeed a multi-use one.
In fact, the only non-football large event that was eventually cancelled is the ski jumping World Cup. That would require removing part of the roof and seats, which turned out not viable economically.
The irony is that the stadium, initially planned as the home of Polish national football team, doesn't even have a permanent football pitch, because it holds so many other events. But the mode of installing a turf only for single games seems to be working as Narodowy broke even for the first time this spring. Which is already a great achievement after it was built with no business plan and poorly managed throughout 2012.