New stadiums: Two from Latvia, two from Lithuania
source: StadiumDB.com; author: michał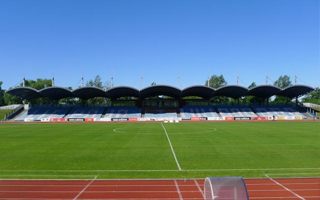 There are very few countries in Europe, where football isn't particularly popular. Here are two of those countries, but of course this doesn't mean fans there don't deserve decent infrastructure, even if they're not too many of them.
Located in the city's largest green complex, the Daugava Stadium is also Liepaja's largest sports arena. From the west it's only 100 meters away from beautiful Baltic beaches, while from the east it's only 1km from the centre of Latvia's third major city.
Opening took place back in 1925, back then with a different name: Strādnieku Stadions (Workers Stadium). In 1934 the name was changed to Pilsētas (Municipal) and in 1990 it became known as it is today.
Most of over 5,000 seats are located on the western main grandstand, only one with cover. In the east three interesting towers rise above seating, providing room for TV cameras and judges during athletic events. However, despite decent infrastructure, the stadium serves mostly for football. Its anchor tenant is FK Liepāja, successor of the dissolved Metalurgs.
Used primarily by reserves of FK Liepāja, this dated stadium of over 1,000 capacity also serves FK 1625 Liepāja for some games. Its infrastructure is currently very modest – one concrete stand resting on old bunkers of this strategic military port.
Its name might sound confusing since it's only used for football, but this wasn't always the case. When first opened in 1920s, the stadium was multi-use served Olimpija, the very first champion of Latvia's professional league Virslīga (1927). However, Olimpija was disbanded before WWII ended and cycling track around the field was removed. During the Soviet era name was changed to Dinamo, along tendencies in the USSR, but this decision was finally reverted.
The main stadium in Šiauliai lies downtown, just 600 meters west of the main promenade of the city. Known for its great turf quality, the stadium has two stands behind a full athletic track – on north and south sides. The southern stand houses all the sporting infrastructure in its central part, also offering partial cover for fans. Meeting the UEFA Category II regulations, the stadium is regarded one of the best across Lithuania.
Municipal stadium in Pakruojis (near Siauliai) is a very intimate venue, created mostly by green landfill. Since 2000 the landfill has seen numerous sections of seating added, mostly as single prefab sections of 10 seats. Only the western main stand has a steel frame supporting the seats and – added recently – a roof over spectators. This allowed it to meet UEFA Category I regulations.