New stadiums: Sad reality of Kenyan football
source: StadiumDB.com; author: michał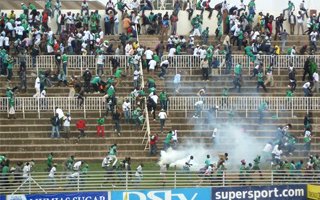 The national stadium saw deaths and its condition suggests more tragedies may come if nothing changes. Meanwhile clubs holding 6 championships play in front of dilapidating wooden stands…
Today's additions aren't new or outstanding architecturally, but they present a different look at football worldwide. The national stadium of Kenya, questioned by FIFA on several occasions, still continues to operate, bringing fans to the edge of disaster time after time. Photos you'll see below come from a recent classic at Nyayo Stadium, when several stampedes took place, while police officers fired gas into the stands. Something that would give safety experts a real headache…
Designed by local Nyanja architects, the new national stadium of Kenya stands in central Nairobi, tucked between main avenues of the city. This unusual location forced the south curve to be cut. Along with the stadium a complex of swimming pools and gymnasium was delivered.
Thanks to its planned capacity of 30,000, it hosted a wide array of great football and athletic events. The main football tenants are AFC Leopards, Kenya's 13-time champions. Younger Sofapaka FC also plays some games here, while Kenya's national team repeatedly named Nyayo as the preferred matchday venue. Under the stands both Kenyan national football and athletic associations have their headquarters.
Unfortunately, aside from great history, the stadium also has a dark one. Poor match organization, spectator segregation and entry gates led to several deaths. In 2005 a young boys was killed, while in 2010 seven more fans died as result of stampede. To date the infrastructure hasn't been improved and many still consider Nyayo as 'disaster waiting to happen' or the Kenyan Hillsborough.
A potential for improvement of safety standards was seen in naming rights deal with Coca-Cola. The beverage giant was to pay $1.5 million for the name, but deal reached in 2009 was canceled after just 3 months.
Central stadium of Nakuru in western Kenya was built in 1948 and lies just 2.5km north from Lake Nakuru, the famous landmark national park. It offers two stands build with concrete (covered in the west and open in the east) and several temporary wooden sections. Their number increased in years following Ulinzi Stars relocation to the stadium.
Apart from the 4-time champions Ulinzi, the ground houses Nakuru AllStars (2-time champions) and Utawala FC. Until 2014 it was the only stadium with floodlights in Nakuru, but the city was shortlisted among 4 others in a governmental program of building brand new stadiums in major cities.
In June 2014 it was planned to hold an African Cup of Nations qualifier between Kenya and Lesotho at Afraha, but the venue was eventually changed to Nairobi.