Budapest: Amazing national stadium presented in Hungary
source: StadiumDB.com; author: michał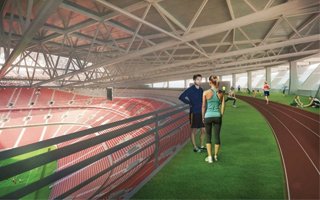 The final concept has landed. It's even larger and more impressive than expected initially. And atop the stands it's going to have… a running track!
On Thursday the National Sports Center (NSK) presented the final vision of Hungary's new national stadium. Renwoned Hungarian architect György Skardelli, author of the nearby indoor arena, revealed his greatest work to date, showing a few very interesting ideas.
At first sight the stadium seems to utilize features well known already. Both the three-tiered seating layout and porous external wrap that may be used as a multimedia screen are nothing new. The overall form is also very simple, perhaps standing out for its size – 11 floors high (51m) and 364m long the stadium will dominate its surroundings and be far larger than suggested initially in 2012. But some ideas deserve attention.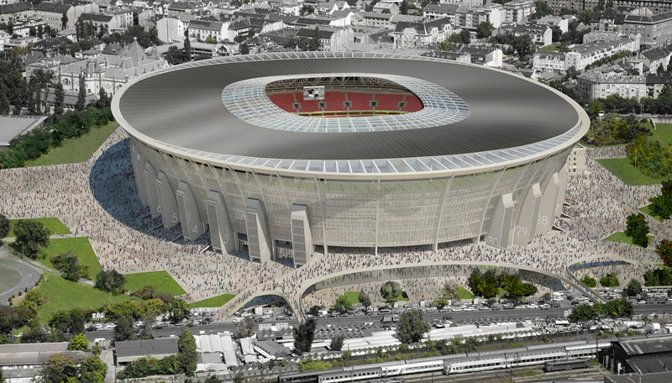 First of all, the stadium preserves the existing staircase towers with their distinctive decorations. As the towers only exist in the west, matching ones will be erected in the east. But the eastern main building will be kept as well, now envisaged to become a modern sports museum.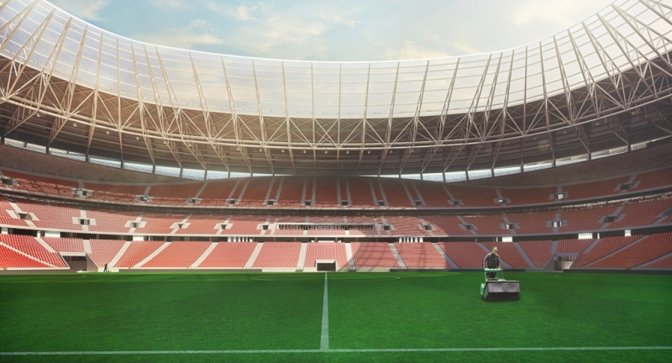 Second, the stadium will be even greater than expected. Not only in terms of capacity, though the increased 67,889 is enough to hold a Champions League final, let alone the Euro 2020 for which Budapest is bidding. The height and chosen three-tiered layout of the stands with 'laola' shape on top makes the stadium seem even taller.
Third, its infrastructure will put most stadia of comparable size to shame. Over 200,000 sqm of space will comprise a 150-room hotel, 800-guest conference center, administrative and commercial offices and 15 indoor sports facilities, allowing to host 20 sports disciplines aside from the most important one – football.
On top of that, and literally on top, there will be an 800m-long running circuit. With 3 lanes and unusual shape it won't be fit for international events, but great for trainings. Set on the last floor and lighted by additional glass roof, it should provide a great panoramic view of the city.
With all the above included, the stadium's cost is still expected to be kept within the HUF 90-100 billion budget ($430m / €320m), very modest for this kind of infrastructure. Detailed construction documentation should be ready by year end and groundbreaking will be possible in early 2015. After three years, in 2018 the stadium will be handed over, well ahead of Euro 2020. And with the updated design Budapest's bid just got stronger…