Rotterdam: Zwarts en Jansma to design De Kuip after all
source: Cobouw.nl; author: michał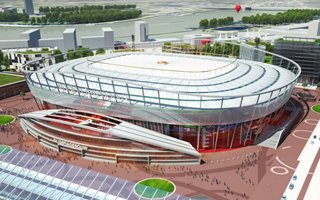 Though their concept wasn't selected by Feyenoord, the Amsterdam-based practice will still deliver the final design of expanded De Kuip. The decision was reached by BAM Sports, tender winner.
The Feyenoord Founders consortium has awarded the design completion of new De Kuip to Zwarts en Jansma. The consortium had freedom in choosing architects and went for a team that previously lost De Kuip's conceptual competition.
In May Zwarts en Jansma's bid to redevelop De Kuip was rejected among four other submissions, while two concepts were shortlisted. Of the two BAM Sports was selected as the most sensible way forward and now BAM awards the final design work to Z&E.
Zwarts en Jansma will not pursue their original stadium scheme, but are expected to make some alterations to the BAM proposal, addressing the critical acceptance of BAM's vision.