Poland: PGE Arena much livelier
source: StadiumDB.com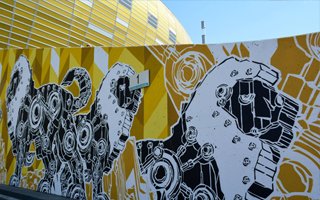 The Euro 2012 stadium in Gdansk should draw much more attention in the coming months. Host club gained a huge boost, the stadium opened a new entertainment zone and a renowned street art artist was hired to decorate the stadium's footing.
So far PGE Arena Gdańsk hasn't had an easy run. The stadium opened ahead of Euro 2012 and enjoyed only a handful of sell-out games, all of them either with the Polish national team or… back at Euro 2012. Lechia Gdańsk's average in the Ekstraklasa was 13,206 in 2013 and 13,000 this year, hardly enough to talk about revenue share between the club and stadium operator at all.
Event acceleration
But it's not as bad as it looks. Since mid-2012 the stadium is ran by a new operating company and sees significant changes. When initially managed by a subsidiary of Lechia (2011-2012), it hosted only league games.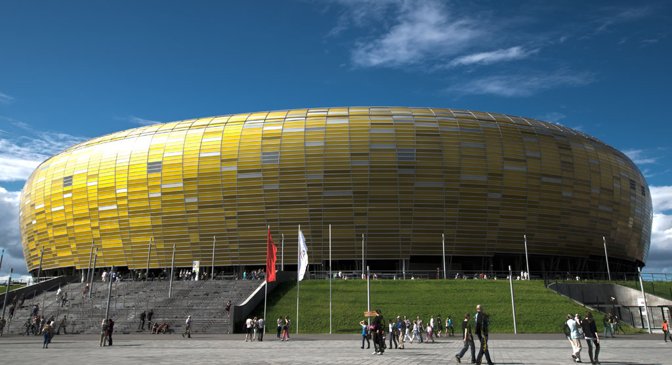 Photo: StadiumDB.com
Currently much more is going on. PGE Arena managed to get a slice of the international event market, drawing the likes of Jennifer Lopez, Bon Jovi and Justin Timberlake to Gdansk between football seasons.
Space outside the stadium is also used more frequently, including a recent show by 'Polish Bieber' Dawid Kwiatkowski that enjoyed great attendance. Another recent event, last month's open Children's Day picnic, drew 60,000 people to the stadium and its surroundings.
New business model
The stadium's initial operating mode failed miserably. While Lechia Operator was unable to either draw large events or commercialise the corporate facilities, large spaces for retail/leisure use designed under the stadium's promenade also remained empty for many months. As a result the company was sacked by Gdansk city authorities with a PLN 5 million (€1.2m / $1.65m) debt left as inheritance for Arena Gdansk Operator, the new municipal company.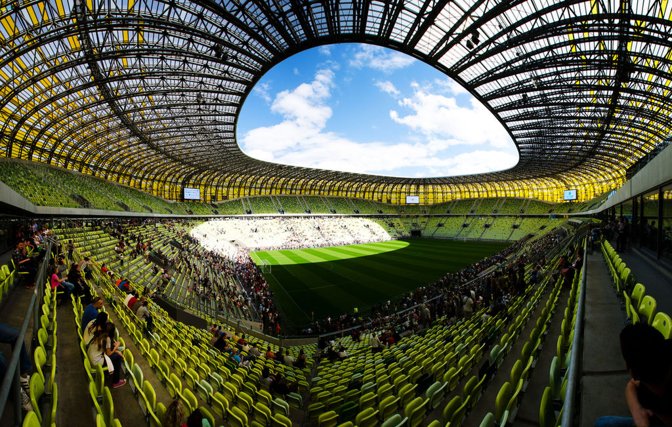 Photo: StadiumDB.com
Now, apart from the above mentioned large events, the stadium begins to live on a daily basis for the first time. Existing Lechia Gdańsk museum and T29 sports pub were joined in late June by Fun Arena. This vast entertainment centre includes go-karts outside the stadium, zip-line slide from the roof, laser paintball, trampoline park, escape rooms and further attractions inside the building.
As the stadium's 5-year naming rights deal with energy giant PGE runs to an end this year and the naming market in Poland being very modest, operating cost of roughly PLN 10 million (€2.4m / $3.3m) needs to be covered by regular use of every possible space.
Interestingly, efforts are also made to make the stadium a friendlier place for guests. PGE Arena is very active in promoting exercise and healthy lifestyle, running programs that bring people together for various sports disciplines on a day-to-day basis.
Also visual changes are taking place. In autumn of 2012 the green stands were decorated with large LECHIA GDAŃSK signage to help fans feel a connection with the stadium that was designed with no links to Lechia. In fact, initially Lechia supporters had to campaign for the arena to have green seats at all, they were planned in yellow – the colour of their derby rival.
Currently a renowned street artist Mariusz Waras is creating a new mural across the external walls of the west stand's entrance. The piece shows mechanical lions, the artist's approach on a major symbol for Gdansk and Lechia. Both the city and the club hold lion as their symbol, while Waras and his passion for mixing natural and mechanical themes guarantees high quality, also seen in his works around the world.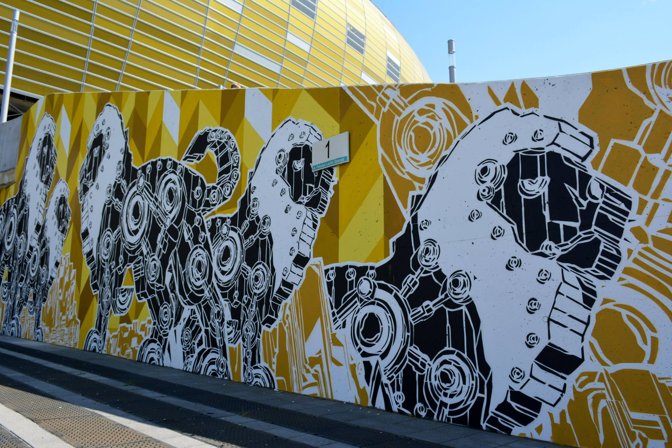 Photo: PGE Arena Gdańsk
Football to grow stronger?
Early hopes that Lechia will soon grow into the stadium's size proved very wrong. Under previous management the club very rarely drew crowds of more than 20,000 people. This is expected to change now.
While regular sell-outs are still a plan for the more distant future, Lechia is considered to become a major contender in Poland over the next few years. In January Franz Jozef Wernze's international consortium became the main shareholder and only within this summer's transfer window the club signed 12 new players, reaching out to markets that were far beyond Lechia's financial reach in recent years.
The investment in Lechia is questioned by sceptics, who emphasize that the club may be abandoned if Wernze's project doesn't work out within a time frame. The German businessman paid his first visit to Gdansk 4 months after having bought shares in the club, which is seen by critics as lack of actual interest.
As we await the first full season under new ownership, Lechia is a club that suddenly moved to Ekstraklasa's spotlight and will almost surely increase its PGE Arena turnout. Whether this will begin a long-term shift from a mid-table team to a Polish powerhouse, we're yet to see. Surely for PGE Arena the latter scenario is one to wish for.