New stadiums: Levi's Stadium and Candlestick Park
source: StadiumDB.com; author: michał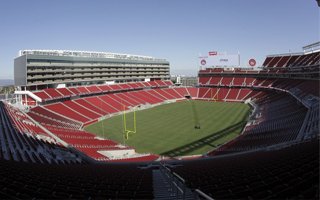 Though the old one cost nearly 100 times less, they're very much the same size today. Not for long – Candlestick is awaiting demolition as $1.3 billion Levi's Stadium takes the stage.
Plans to build a new stadium for the San Francisco 49ers came up already in 1997, when reconstruction of Candlestick Park was envisaged. However, despite support from local voters, the project never took off. In 2006 a new idea came up, this time for a new stadium built next to the old one as part of San Francisco's 2016 Olympics bid. This one also fell through as 49ers owners announced they were in talks over relocation to Santa Clara.
That scheme was eventually approved both by the city and its voters, who welcomed the project in 2010. A new stadium designed by HNTB was to consist mostly of steel prefabs, most of them bare and visible to passers-by. Its dominant feature is the main grandstand with a tall commercial building topped by a 27,000 square-foot garden (2,500sqm) and 20,000sqf solar plant (1,900sqm).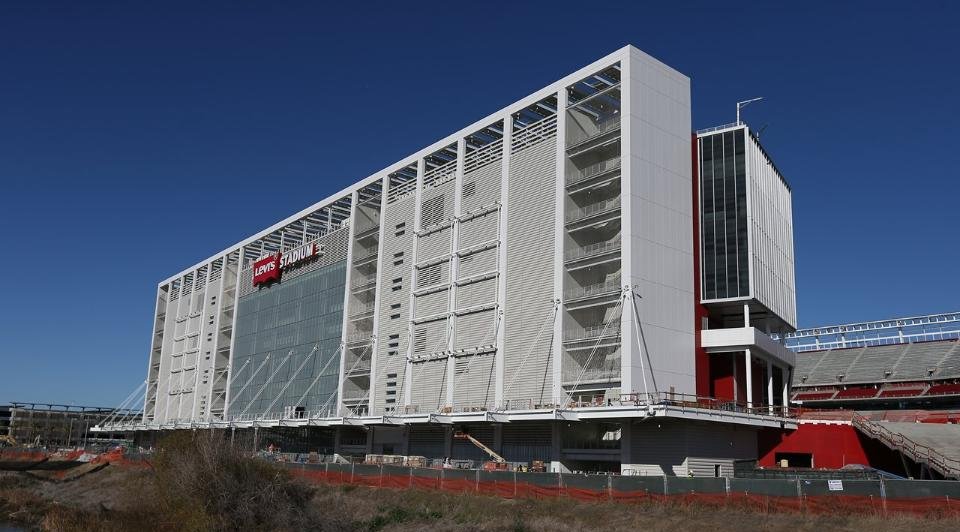 Photo: San Francisco 49ers
The stands were divided into three tiers, lower one enclosing the pitch, together holding over 68,500 people with possible increase to 75,000 if needed. The layout varies between stands as the south and north also provide room for two giant screens, 890sqm each. Meanwhile the west side accommodates many of the 9,000 business seats and 176 suites.
The project estimated to cost $1.27 billion was mostly financed by the city through loans and taxes, with 49ers contributing the remainder. Part of the cost was recovered before opening as Levi's became naming rights owner in May 2013. The company paid $200 million for 20 years, which was the third largest deal of its kind at that time.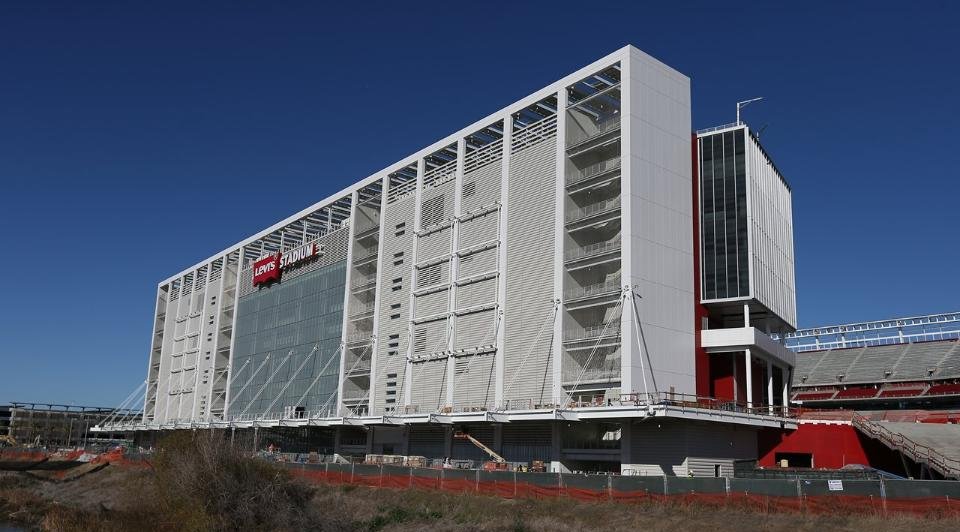 Photo: San Francisco 49ers
Construction took just 819 days with mostly prefab elements installed on site. But despite the simple structure its cost is among the world's largest. This comes partly along the expensive equipment, like 800 concession stands or $30 million alone spent on two giant screens. Also, the project was done with focus on sustainability. Apart from the green roof and solar plant it means recollection of rainwater, efficient energy management, construction and furnishings with significant amount of recycled materials. Altogether, this allowed the stadium to reach the LEED Gold Certificate.
Construction works on the very first baseball stadium made entirely with reinforced concrete began in August 1958. Less than two years later the stands for around 43,700 people were ready. Located on the very south-eastern edge of San Francisco, area called Candlestick Point, the ground is surrounded by 10,000 parking places.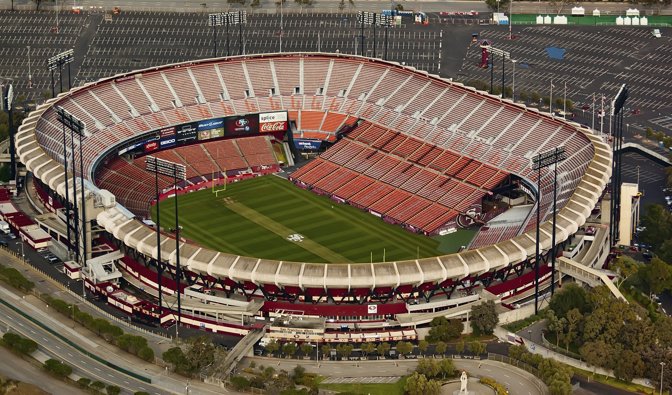 Photo: Michael Estigoy (cc: by-nc)
With very few sites suitable to host a stadium and parking of this size, the city decided to buy land from local entrepreneur, who then in return became the general contractor without a proper tender. This was later subject to investigation.
Though initially built entirely for baseball (as the Giants relocated to SF), the stadium was able to hold football games already in its early weeks. Within just a decade it was expanded and fully enclosed from the north, more properly serving American football despite its irregular shape.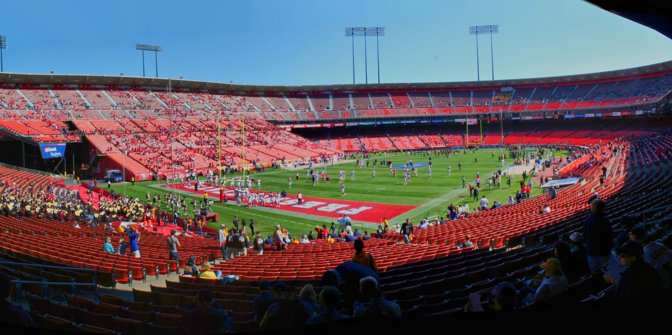 Photo: John Martinez Pavliga (cc: by)
The expansion brought capacity to 58,000 and allowed further increase, but didn't solve one problem. From its early days the stadium was receiving very strong wind from the San Francisco Bay. Initially it was though this is the price for a great open view of the Bay. But as the new stands enclosed Candlestick Park, the wind didn't stop. Even more, it began to swirl inside during games, earning it a reputation of extremely cold.
The baseball hosts relocated to their new stadium in 2000, leaving the 49ers as only hosts. However, the football franchise was also seeking to build a new home, succeeding in 2014, when Levi's Stadium was opened. As both key tenants left, the stadium was set for closing and demolition. Last event on the schedule is a Paul McCartney concert, coming nearly 50 years after The Beattles played their final concert at this very stadium.