New design: Estadio Augustin Coruco Diaz
source: StadiumDB.com; author: michał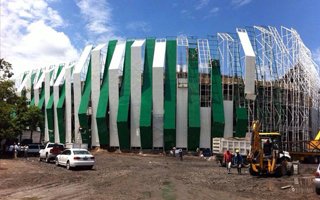 This stadium at the heart of Zacatepec will be able to accommodate almost all people living within city limits. To build it a kindergarten had to be moved, but just what price would you put on reviving a legend?
The plan of building a new stadium in the town of Zacatepec was outlined in 2012 and implemented in early 2013, seeing works begin in spring. This sugar cane basin will receive a stadium with external cladding resembling the tall green stalks.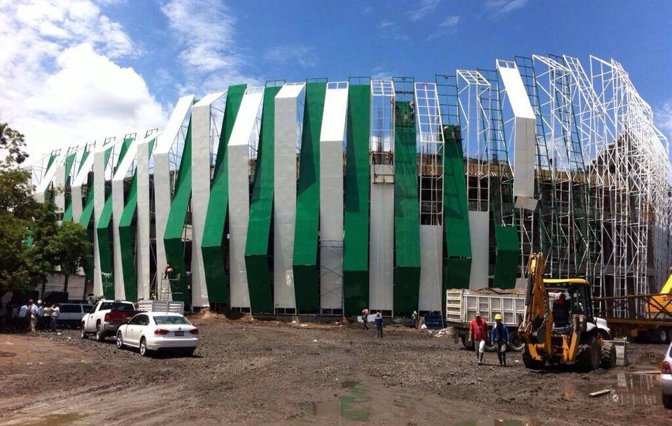 The stands have a unique layout: along the pitch (north and south) they will have 3 tiers, similarly behind the eastern goal. The west end, however, will hold two levels of luxury suites above regular seating and two corners will be semi-open (north-west and south-east).
Simple prefab structure began growing in 2013 and was expected to be fully delivered in just over a year, in June 2014. However, several interferences (local families protest, worker strikes and contractor replacement) influenced the pace. The stadium should be available for first game in August or September of 2014.
Initially priced at some MXN 400 million, the stadium's budget eventually grew to over 500 million ($39m / €29m). Despite its simplicity, the stadium should be relatively modern and sustainable. Its floors and partial cover will recollect rainwater for matchday operation, while LED cladding illumination should be very energy-efficient.

Interestingly, with the capacity of over 26,000 (664 in 115 suites) the stadium will be able to accommodate nearly all citizens of Zacatepec. Previous stadium bearing the name of local player Coruco Diaz had 15,234 capacity when closed in 2013, also being regarded as one of Mexico's most traditional venues.
The town is famous for its football team that won two domestic championships in 1950s and the new stadium's is expected to bring the glory back. Currently Zacatepec play in Mexico's second league, but with the new stadium they're hoped to get back up soon.