Poland: New stadium in Zabrze delayed further
source: Sport.pl / StadiumDB.com; author: michał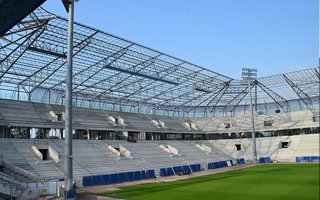 Three stands for over 24,000 people were supposed to open for fans of Poland's most successful team in April… last year. But they're still not ready and the municipality just admitted they have no money to finish works.
The story behind Zabrze's new stadium is becoming more grimy with every passing month. Initially the ground was supposed to be phased in construction so that Górnik Zabrze, 14-time champions of Poland, could use no less than one stand throughout the project.
For this reason three sides went under construction. Meanwhile the main grandstand was left as it was. Already in early phases of the project it came out that the city may not have resources to fund the fourth section any time soon, leaving the stadium with 24,000 seats instead of 30,000+. Adjustments were made to accommodate media and corporate facilities within the three stands (earlier all planned for the fourth one).
The three new stands were scheduled for delivery in April 2013, but numerous delays of Polimex-Mostostal led to the contract being terminated in November. Since then the municipality launched several individual tenders for delivery of single elements of the stadium, hoping that this will speed up the postponed opening, even though possible cost increase was at stake.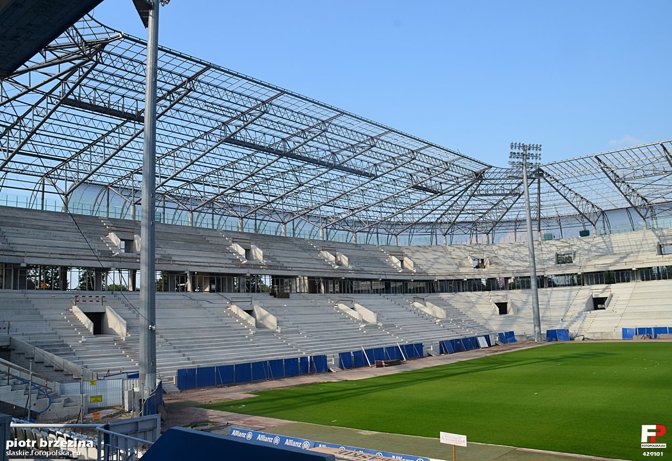 Photo: Piotr Brzezina, fotopolska.eu (cc:by-sa)
In late May 2014 Zabrze vice-president Krzysztof Lewandowski assured the public that the city has all necessary resources and should sign contracts with four tender winners (most notably for roof, heating and electricity) in mid-June, while the last signatures should be in July.
However, today the same vice-president confessed to Sport.pl that the city hasn't got the funds that were supposed to be secured long time ago. "We can't do this [award contracts], because we haven't got financial guarantees for the project. We're talking with one of Polish banks about acquiring debentures. It's taking more than we expected, but the risk of failure is very low. Surely, there is no risk of the stadium not being finished at all", Lewandowski said.
Earlier the city assured it will do everything to finish works on the three stands by year end. Now delivery earlier than in 2015 is impossible. Should the project slip further, Górnik will face serious problems. The team, deprived of matchday revenue for three years already, was granted the final license to hold Ekstraklasa games in the under-construction facility. If works continue after summer 2015, the side will have to relocate.