Liverpool: Demolition around Anfield begins
source: LiverpoolEcho.co.uk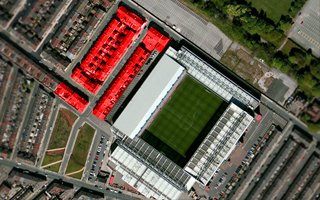 First of the 300 houses set for demolition are already leveled at Lothair Road. Soon the street itself will also be a memory, making way for the main stand expansion.
Today demolition work began west of Anfield. Houses along Lothair Road were first to give way, but there's a lot more waiting for demolition. In total, the surrounding neighbourhood will lose 300 houses before receiving more new ones as part of the Anfield redevelopment project.
Lothair Road, Alroy Road and part of Rockfield Road will disappear completely, making way for a new plaza and 96 Avenue, new street dedicated to victims of the Hillsborough disaster.
Commencement of the demolition doesn't mean the beginning of Anfield stadium revamp just yet. As the club recently filed their planning application, works on the main stand are expected to begin in several months, probably in early 2015.