Liverpool: Anfield expansion to start in early 2015?
source: StadiumDB.com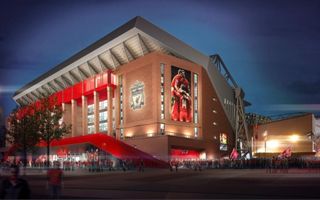 This time next year we may already be looking at workers building the new Main Stand. Liverpool have just filed the planning application and hope to open the 21,000-capacity stand in time for 2016/17 season.
Yesterday Liverpool FC informed at their website about filing the planning application for Anfield expansion. Now it's up to the city to approve or reject it, but it's anticipated the plan will get a green light later this year. After all, the city of Liverpool has been working closely with LFC to deliver a common vision for revitalized Anfield district.
Mayor of Liverpool, Joe Anderson, said: "The proposed redevelopment of the stadium is a hugely important part of our vision for Anfield - to create a thriving community in which people want to live, work and visit.
Managing director Ian Ayre confirms the application was subject to long and thorough consultations. "Over the past 18 months and as part of this approach, we have worked closely with the community, local residents, Liverpool City Council and Your Housing Group and we are delighted to be able to bring forward a planning application at this stage."
Should Liverpool give the planning permission in second half of 2014, expansion of the western Main Stand may begin in early 2015. This in turn will allow Liverpool FC to open the stand in time for Premier League's 2016/17 season.
The stand will grow by roughly 8,500 seats, reaching almost 21,000 and dominating the stadium's layout with its size. It will house vast majority of the corporate facilities, club offices and become home to the Hillsborough Memorial, among other. A vast public plaza in front of it is expected to open the stadium towards Stanley Park, becoming a meeting point on non-matchdays.
As part of its proposed stadium expansion plans, the club has also appointed Tom Doyle, an experienced project director who worked on the London 2012 Olympic programme and more recently the SSE Hydro Arena in Glasgow, to manage the redevelopment should consent be granted.
Although the planning application also includes the expansion of northern Anfield Stand by further 4,800 seats, no details or images of that stand have been released to date.