Toronto: Confusion over Argonauts at BMO Field
source: theglobeandmail.com / sportsnet.ca; author: michał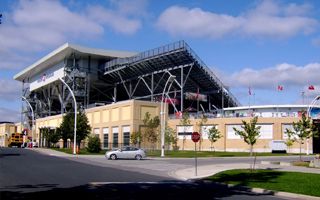 With no funding from public authorities the redevelopment of BMO Field has changed its main focus for the time being. Some media claim this means Argonauts are out of the scheme, but the investor denies.
Yesterday surprising news was released by the Globe And Mail of Canadian Football League side Argonauts being dropped from BMO Field's revamp plan. Just as a reminder: the stadium's expansion is hoped to allow Canadian football to be played alongside soccer/football on a regular basis.
Why the change? According to that early report, Maple Leaf Sports & Entertainment (MLSE) – owner of Toronto FC – has cancelled plans as the Argos are caught in a next-level bargaining war between two much bigger players.
MLSE had planned a phased, two-year renovation costing $120-million, and had hoped for financial help from all levels of government. That was to include a $10-million loan from the city, and $10-million grants from each of the provincial and federal governments. But that funding hasn't been granted, while the BMO expansion timeline is getting tighter ahead of 2018 Pan Am games.
However, MLSE president Tim Leiweke was later quoted to say "Our current situation is really geared towards trying to figure out how we get at least the first phase of this renovation done in time for the Pan-Am Games," he said. "That's really the change here.
"This is just about creating a three-phase process instead of the original two-phase process. The third phase, which would be renovations to make the stadium work for the CFL, would be subject to finishing off the financing from the province for the stadium and the feds for big events."