Brazil: Further controversy with Estádio Nacional
source: StadiumDB.com / AP; author: michał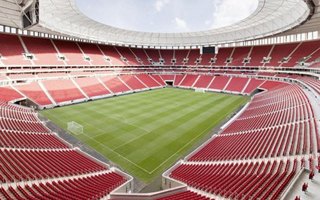 If we count the surrounding infrastructure, Brazil's new national stadium is one of three most expensive stadiums in football history. According to a report by Court of Audit one third of the project expenses raises questions.
The new stadium in Brasilia is a true landmark – the city's largest building with its 288 pillars dominates the surroundings, but its legacy use raises controversy with no major team playing in the city week-to-week.
Further questions now consider the price tag. The venue was initially announced to cost R$696 million, but upon opening was reaching R$1.28 billion. Interestingly, the 2014 World Cup organizers' official website still gives it a R$1.015 billion.
Whichever of the two figures we take, it's a massive increase. According to the Federal District that shouldn't surprise. Commenting for StadiumDB.com a few weeks back, the District's spokesman explained the initial figure only covered some of the works.
"The estimated cost we talk about was related to the previous structural works run by the consortium and was not released focusing on the whole project (if other sources state differently we are not responsible for it). It is important to mention that, after, to complete the project, the current local Government had to perform other bids related to other stadium's parts, such as its coverage, lawn, electronic scoreboards and seats supply", said Nelson Souza Aguiar, international communications manager at the Federal District's organizing body.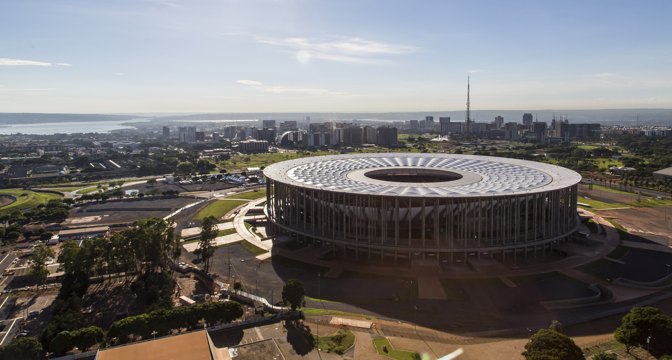 Photo: Copa2014.gov.br
However, an independent audit by Tribunal de Contas (Court of Audit) from March 2014 shows that the cost never stopped at the official R$1.015 or higher R$1.284 billion. In fact, when including the surrounding infrastructure, the stadium now stands at R$1.9 billion and not all tenders/works are delivered or paid, thus aren't included in the report.
The auditors only covered some 75% of the project and came up with the R$1.9 billion figure. This amount places Estádio Nacional among the most expensive stadiums in world history. However, without the secondary infrastructure around it, the stadium stands at roughly R$1.4 billion ($700m). This figure puts the Brazilian giant behind top ten most expensive grounds around the world, though remains immense.
The price tag raised serious concerns over possible over-spending. According to the 140-page report potentially up to 30% of the budget may have been mismanaged.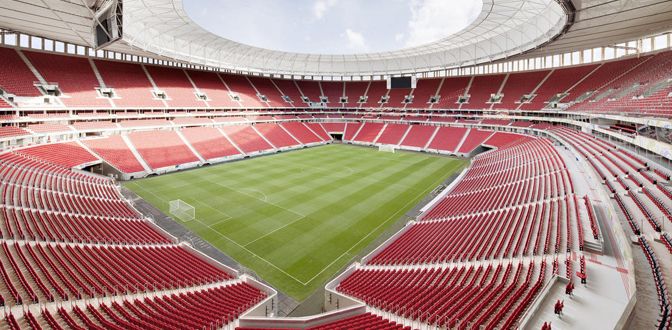 Photo: Marcus Bredt / GMP Architekten
As an example, up to 12% of the steel ordered is reported as wasted. Auditors say wasteful cutting practices or poor planning added $28 million in costs, the single biggest overrun uncovered so far. At the same time other stadium projects ran by Andrade Gutierrez saw much smaller losses, 5% in Manaus and nearly none in Cuiaba.
Another $16 million was lost when Brasilia's government inexplicably failed to enforce a fine against Andrade Gutierrez for a five-month delay in completion of the main portion of the stadium. Auditors also say they spotted $2.3 million worth of materials that were simply listed multiple times on bills.
Now, an Associated Press analysis of data from Brazil's top electoral court shows skyrocketing campaign contributions by the very companies involved in the most Cup projects. The lead builder of Brasilia's stadium, Andrade Gutierrez, increased its political donations 500-fold in the most recent election.
Is that coincidence or a trace of financial connections and corruption, as some critics wish to see it? Sports Minister Aldo Rebelo assures that if so, no-one will escape responsibility. ''If any corruption is proven, it will go through our legal system and punishments will be handed out for anyone found responsible", he said.
Still, proving it may sound easy in an official statement, but in reality it could take years for official audits to be finalized and judged by civil courts, a required step before any criminal charges are filed.