Toronto: City approves $10 million for BMO Field
source: TorontoStar.com; author: michał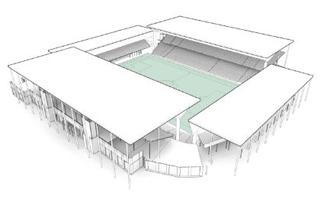 Yesterday's decision by the city council is a major step forwards and makes the secured financing increase to $100 million of the $120 million expected to expand BMO Field.
Initially planned for Tuesday, eventually the debate and vote on future shape of BMO Field took place yesterday. The council gave overwhelming support to the Maple Leaf Sports and Entertainment (MLSE) scheme – 39 votes for and 3 against.
The vote means the city of Toronto approved its $10 million contribution to the $120 million project. MLSE already assured to provide $90 million for the municipal stadium's upgrade, while further $20 million are expected to come from senior governments.
"We're very grateful for the leadership and support of the City," said MLSE president Tim Leiweke. "This is an important issue, not just for Toronto FC, but also the CFL, the Pan Am Games, our ability to host Winter Classics, Grey Cups, and the proposed 2026 World Cup bid for Canada."
Worth mentioning, among the three voters against granting financial support for the project was Toronto mayor Rob Ford.