Rotterdam: Two finalists for Feyenoord's stadium
source: StadiumDB.com; author: michał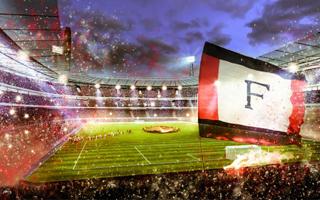 After weeks of aveluation the three experts employed in late 2013 made their selection. Red De Kuip and BAM proposals of how the new De Kuip should look were chosen as best. But only one can selected in the end...
As we wrote in December 2013, a special trio of jurors were selected to analyse best possible redevelopmnt plans for De Kuip. Three respected members constitute the working group: Feyenoord executive Jos van der Vegt, De Kuip executive Hans Vervat and former alderman Wim van Sluis.
Feyenoord's almost 80-year-old stadium needs a thorough revamp and seven bidders entered the run for best concept, five of them presented at StadiumDB.com. Some of best Dutch architects and engineers were involved in these projects.
Today, during a special press conference the trio announced their initial verdict. Red De Kuip and BAM were selected as two best proposals.
Both of them represent a very limited risk in implementation, while at the same time they offer all the required facilities and world's highest standard. While Red De Kuip is slightly more expensive (€208 million compared to €`196 million of the BAM plan), it also comprises the revamp of Varkenoord training centre.
Whichever of the two visions becomes reality, the future capacity of De Kuip will increase to 63,000, with potential to reach the 70,000 mark if demand requires it. Also both schemes foresee the addition of retractable roof.
Now each design team has time to finalise their concepts before final evaluation is delivered. The trio of experts is expected to make a final recommendation on April 25. If everything goes smoothly from that point, Feyenoord may welcome fans at the new stadium already in 2018.