Moscow: VTB Arena going forward, design changed
source: rsport.ru / sovsport.ru / Interfax / StadiumDB.com; author: michał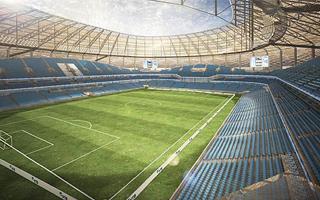 This year saw the announcement of construction relaunch at Dynamo Moscow's new stadium. But supporters needed to remind everyone they've been waiting for years. Now the redesigned project should gain pace.
April Fool's Day was no time for joking in Moscow, where supporters of Dynamo gathered in front of their former stadium to express displeasure over construction delays.
"Six years ago Dynamo played their last home game here and we were promised a new stadium. Since then they've demolished most of the stadium and dug a pit. In 2013 they told us work will start in January 2014. It's April, they did nothing. So we came to ask about it", said Yaroslav Kharitonov.
While Dynamo continues to play "in exile" at Khimki Arena, indeed little progress can be seen at the construction site. Apart from the ground works and preserving western historical part of the old stadium, only piling works commenced. Surrounding commercial parts of the future VTB Arena Park are going forward much better. How is it that the stadium is so far behind?
"Our design is undergoing changes, primarily due to no games of the 2018 World Cup. We had to practically redesign the whole thing. And thankfully, these efforts came to a logical conclusion, we now have all permits in place", says Sergey Tarhanov, VTB Arena project manager.
As it turns out, the renderings you may find at StadiumDB.com are outdated already, despite us updating them three times already. Newest alterations continue the tendency of downscaling the entire stadium, which is expected to be built with a new indoor arena next to it, both within the old stadium's bowl.
To make room for them both, the stadium's west stand was reduced to minimum. This matters for fans, because most ardent supporters have traditionally stood in the west end. Now they have to move to the east, but accept the relocation. In return they'll receive a pub under their 'old' stand, in the west.
Currently called Yashin, after the legendary goalkeeper, the pub will be only one of possible tributes to Lev Yashin. Also the delivery date for the stadium is now hoped to be October 22, 2017, on Yashin's birthday. To reach the last goal, from now on the project has to go smoothly, though. But with work announced to commence, we should soon see more progress.
The below renderings show how the project has evolved so far: