New design: Sun Life funded privately, then reverted to county?
source: StadiumDB.com; author: michał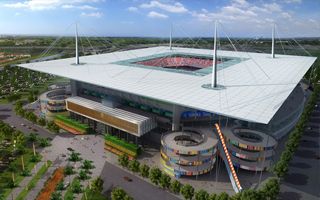 Miami's Sun Life Stadium is making headlines as its owner proposed an interesting deal to local authorities. Billionaire Stephen Ross agreed to fund the overhaul on condition that the county will take over as new owners. Dreamy deal? Not just yet…
When built in 1987, the Miami Dolphins stadium had a price tag of $115 million. Now it's going to get an extensive redevelopment for over three times the amount,$350-400 million.
The most distinctive part will be its iconic roof. Raised on eight concrete towers, the rectangular cover will have four iconic spires in the corners. In case this 360 Architecture idea sounds familiar, it's almost exactly the same as was proposed back in 2010 for this stadium.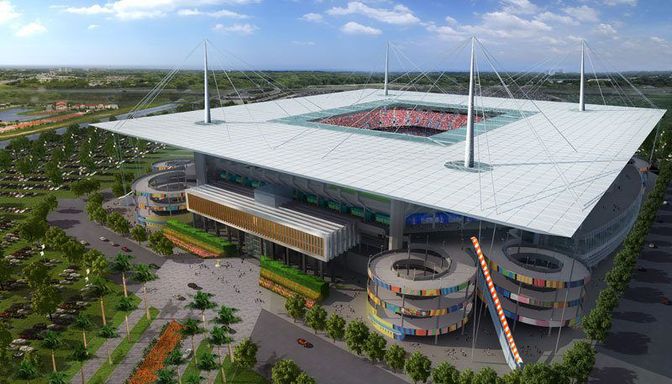 The roof itself will cost roughly $100 million. The remainder will cover replacing almost all technologies at the stadium with new ones. This includes equipment as basic as seats, but also escalators, lifts, lighting and sound systems, ending with the giant screens. Instead of two, four bigger ones are to be mounted in the corners.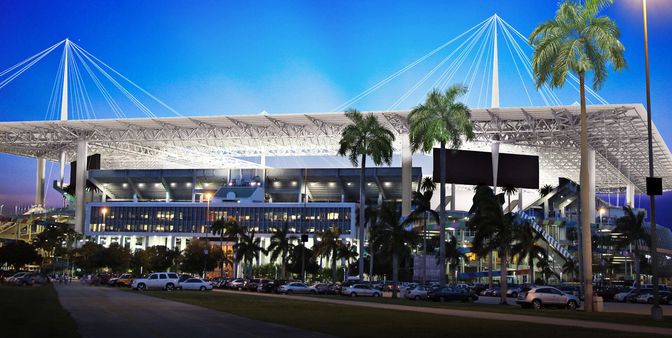 To fit them under the roof, parts of corner seating will need to be dismantled. Then again, some 3,700 new seats will be installed right along the playing field, moving fans closer to the action (with 27 meters between first row and sidelines it was quite far, now to be 22m).
One might argue this operation will see almost everything replaced, except only the bare concrete bowl. This was the argument for Miami Dolphins last year, when they tried to persuade authorities and taxpayers that $400 million isn't much – only half the price for a new stadium with similar outcome.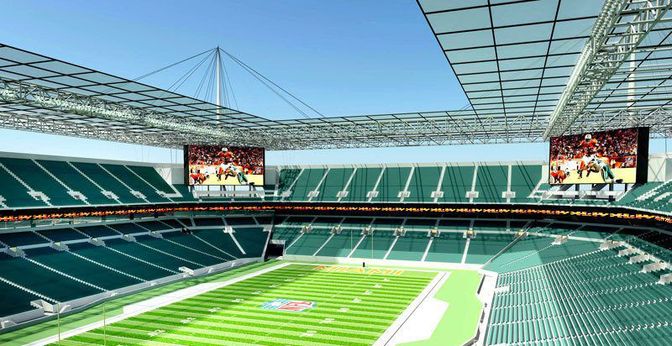 Back in 2013 the plan was for a new tax to cover vast majority of the spending. But the privately-owned Sun Life Stadium didn't get the huge public support, new tax legislation didn't pass.
This is why yesterday a completely new plan was unveiled to finance the redevelopment. Billionaire Stephen M. Ross, owner of both Dolphins and the stadium, agreed to cover the work himself. This might be seen as generous when other NFL owners still demand taxpayers to pay for their stadiums, but it's not all perfect for the authorities.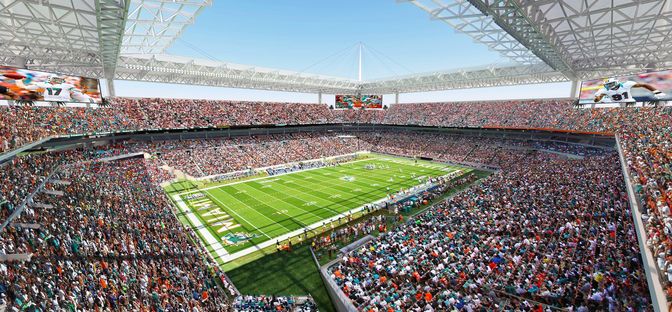 Ross also stressed that once the project is carried out, which should take only a year (!), he wants to revert ownership of the stadium to the county. This worries some officials, because currently Sun Life Stadium is the largest payer of property taxes, significantly contributing to the local education system, among other. The building's annual tax rates stand at $3.8 million.
Miami-Dade Mayor Carlos Gimenez met with Dolphins owner Stephen Ross about two weeks ago. Prompted by yesterday's announcement, Gimenez gave a rather welcoming statement. "I frankly don't believe we're going to get another Super Bowl if we don't do something with the stadium," Gimenez said in an interview Monday.
He also considers the new offer more appropriate. "Quite frankly, it is a much better deal than what we were talking about last year. […] The fact that the owner of the Miami Dolphins is willing to pay the total cost of a stadium renovation is unprecedented and is something that as a business community we highly commend," he said.
Bu Gimenez isn't supporting the idea just yet. "However, there are still hurdles that the Dolphins organization must overcome before I feel comfortable with the proposal."