New design: De superKuip
source: StadiumDB.com; author: michał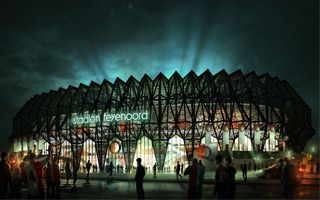 They are the last key player to prezent their vision of how Feyenoord's new stadium should look. Volker Wessels took full advantage of it and prepared their presentation better than anyone else.
When construction of the brand new stadium in Varkenoord fell through, Volker Wessels lost a lot. This company was the one behind Feyenoord's relocation scheme, which was denied financial guarantees last year.
To get back in the running, Volker Wessels now released their approach on complete redevelopment of existing De Kuip. The project named De superKuip is based on the idea that existing, almost 80-year-old two tiers of seating should be remained, but all the infrastructure surrounding them will change.
Both tiers will change slightly, getting new staircases and entrances. With sightlines from the two oval rings still very decent, the pitch would be lowered and make way for a third, rectangular tier. This way fans would get as close as 8 meters from the action instead of 11+ today.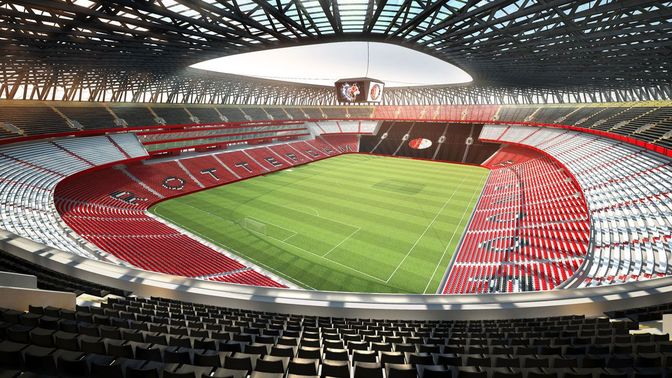 The existing lower ring will lose sections in two places – west stand's business section would be built here, bringing hospitality zone closer to the field. The other is the north end, where a large Kop-shaped stand will span from field level upwards to the upper ring. Accommodating 12,000 standing people, it should become the new, improved heart of vocal support.
The rethought seating layout will be enclosed by a completely new roof structure. Monumental black steel structure will make De Kuip overwhelming for away teams and together with new Kop stand is expected to give Feyenoord "1:0 advantage before the game begins" – or so wish Volker Wessels. Four giant screens are to be hanged centrally over the pitch.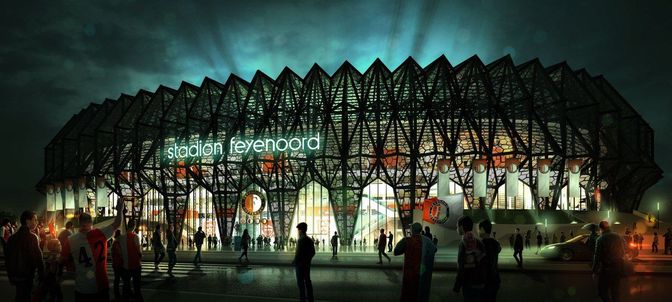 How can you save the 1937-built steel stands while everything around them (and even beneath them!) should change? Volker Wessels propose a stand-by-stand revamp. The existing roof will require temporary support after losing its durability (as pictured below).
This way the club will constantly have no less than 40,000 capacity available and with the west stand planned for reconstruction first, new business spaces will be available already during reconstruction of the stadium.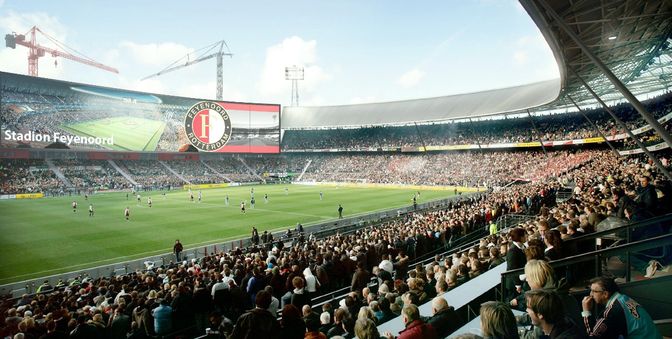 After three years the club should already have 63,000 capacity and immense revenue potential to surpass all Dutch competitors. Volker Wessels also assure the stadium may be expanded to 70,000 without major structural interference.
The price of all proposed features depends on features demanded by Feyenoord. Volker Wessels put it between €175 million for very basic version and €250 for best equipped one. The simply-put rule is that the more is spent, the better commercial potential is achieved for future use.
Worth mentioning, the project is made very tempting for fans. "Het Legioen" of Feyenoord are promised both the new Kop stand and offer to name it themselves. Volker Wessels also welcome all suggestions and encourage people to give their feedback.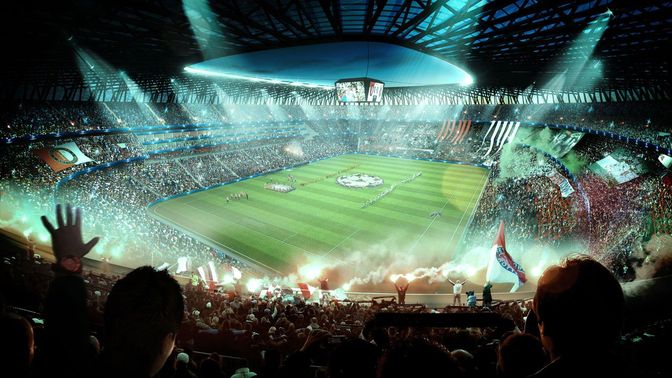 Apart from the mentioned 1:0 advantage they also promise bidding for 2020 Champions League final, while one rendering shows amazing pyrotechnics display. Official website of the project is written to emphasize the value of Feyenoord supporters as much as possible.
But De superKuip proposal still remains one of many already in the running. Future of the famous football temple will hang on the club's official choice, expected within months.