New design: De Kuip according to Zwarts en Jansma
source: StadiumDB.com; author: michał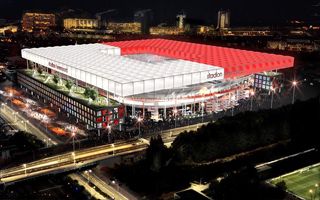 Holland's most famous stadium may become even more recognizable thanks to a massive illuminated roof. That's almost 100,000 sqm of bright ETFE membrane.
Zwarts en Jansma Architecten has quite a portfolio for Dutch stadiums, including the one in question. In 1993 the company designed the first ever roof for Stadion Feijenoord. Now they want to do it again, also revamping and expanding the entire building.
Though it wasn't directly ordered by Feyenoord, the office is one of seven bidders hoping to gain support of the club and grab the redevelopment contract. As decision is expected within weeks (three experts will give their final recommendation in April), here are further details about De Kuip by Zwarts en Jansma.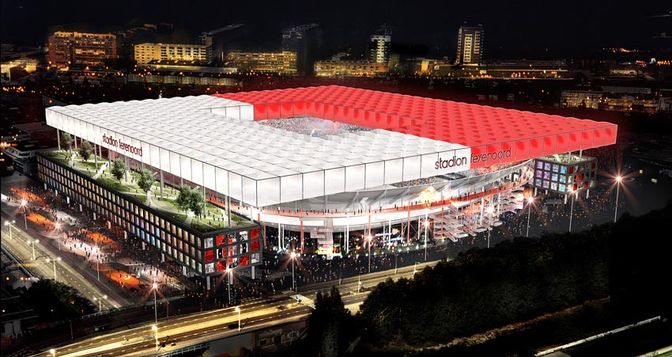 Worth noting, the company was already opting for De Kuip's revamp when Feyenoord planned building a brand new stadium instead. According to the Amsterdam-based architectural practice, the historical stadium doesn't only have the durability to remain in use for decades to come. It also has the potential to become a world-class football stadium, meeting all requirements.
This is why the old stands remain intact in this idea. Of course the 50,000 capacity needs to grow, so two measures are proposed. First, the field would be lowered by 1.65m to make room for further seats close to the action.
Then the upper ring would receive additional rows until the complete size reaches 63,000. In case there is a need, in the future it may be further increased to 70,000 by the upper tier growing upwards. Interestingly, Z&J consider a new third ring ineffective because of supposedly compromised sightlines.

Outside the stadium two auxiliary buildings would be built, running along both sides. These would provide office and commercial spaces, as well as further infrastructure for matchday use. At the same time they'd be the basis to tall pylons supporting the roof. This means the new cover would have all primary supports outside the stands themselves.
Now, the most impressive feature is the roof itself. Measuring 220x240 meters it would create a massive flat board. Filled with ETFE cushions (each 10x10 meters – bigger than at any other stadium), the steel frame would be able to accommodate a retractable part in the future, should there be a need for one. Total surface of the ETFE membrane might be around 100,000 sqm, which together with colourful illumination should create a stunning impression.
The simple, but modern and expressive new icon of future De Kuip seems to dwarf the stands themselves in terms of visual effect. However, as Zwarts en Jansma argue, the aim was to clearly distinguish from the historical form of the stands and the new cover.