New design: 2017 African Cup of Nations final venue
source: StadiumDB.com; author: michał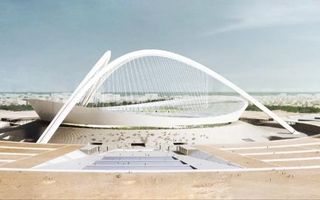 Three giant arches were designed to reflect the city's name Tri-polis. But in reality Libya's new national stadium is being built outside Tripoli…
Tajura is a separate municipality, but being part of the Tripoli metropolis, the site for Libya's new national stadium is located there. Unique complex on a 500-meter-diameter circular site will rise significantly above surrounding districts and the central stadium's three tall arches are expected to become a famous landmark.
Why three? Though some critics say this is just an evolution of what GMP Architekten did in Durban, this idea is considered to be dedicated to Tripoli, illustrating the Greek meaning of the capital's name: three-city.

Three is also a special number in cultural terms, becoming a very comfortable theme in this piece of architecture. Apart from the three arches, there will also be three tiers of seating inside and three additional buildings outside (covered natatorium, indoor hall and a sports and entertainment venue) placed in a triangular layout with the new stadium at the triangle's heart.
Want more threes? There's at least one visible in 30, the number of months Austrian company Porr has to deliver the new complex. As groundbreaking took place last Wednesday, this means the new stadium should be ready by the end of August 2016.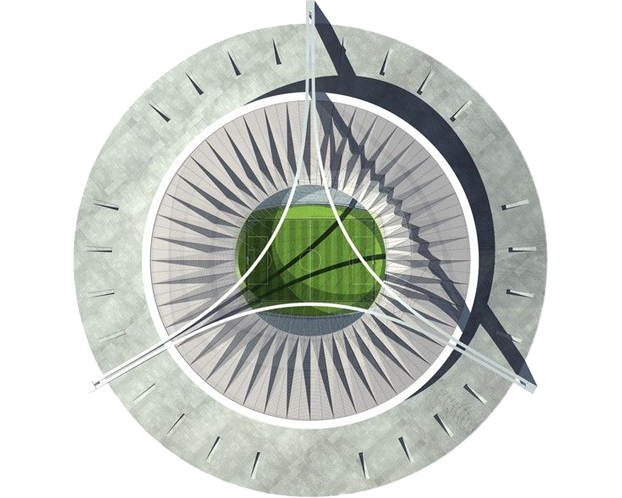 But despite the three arches being planned as Libya's new landmarks, they aren't all that new. This very same design, still at early stage, was first presented in 2010, when Libya was hoping to hold the African Cup of Nations, but eventually didn't after the civil war broke out.
Back in 2010 it was GMP Architekten on the job and the very same German team is working on the final look of the complex as preparatory works proceed on site. The stadium will be placed on a cone-shaped plinth to allow easy access from the outside to two of the three tiers of seating. What changed since 2010 is the capacity, which went up from 50,000 to 71,000.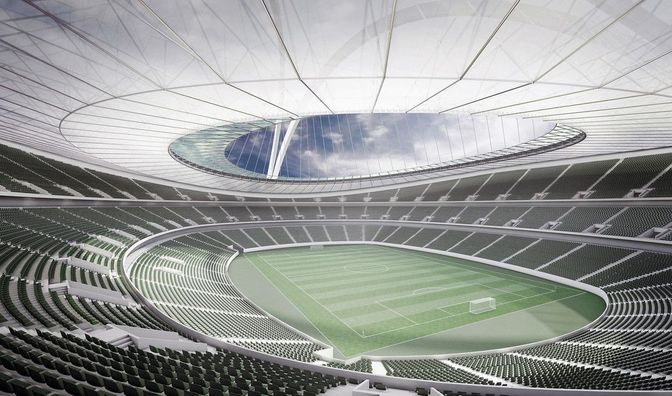 The new stadium still has no official name, so we gave it a working title. But while we can only guess on the final naming, it's sure that when the stadium opens in 2016, Libya will be a new country in terms of sports infrastructure. This stadium is only one of 11 planned or already in progress, like another giant in Benghazi, also brought to a stop by civil war.
All of these efforts are part of the country's one more attempt at African Cup of Nations. The CAN is planned in Libya for January 2017. Both the opening game and final are expected to be held here in Tajura.