India: FIFA unsure of U17 World Cup venues
source: IndiaTimes.com; author: michał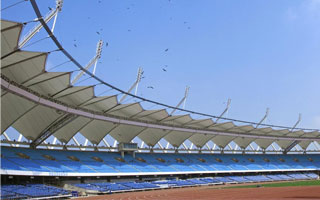 Even the completely redeveloped Nehru Stadium in Delhi failed to meet requirements for football games. Cricket stadiums pose doubts, while the Mumbai supposed venues are both questionable.
At least three of the eight stadiums the FIFA team inspected last month have been found to be short of the minimum requirement to host under-17 World Cup group matches in 2017. Primary problem is the pitch size, because even the Jawaharlal Nehru Stadium in Delhi doesn't provide a 105x68 meters field despite recent revamp.
While expanding the field is relatively simple (though problematic with interference into athletics facilities), sightlines are a bigger concern. This can be seen at Nehru Stadium in Kochi. The giant stadium is primarily used for cricket and distance between players and fans is very significant.
The FIFA officials were amused to see pitches being laid out when they made a stop at DY Patil Stadium on their return from Pune. It is also the only stadium that has not hosted a football match in the past, raising doubts whether FIFA will allow a WC match to be played here.
Mumbai's other offering, Cooperage, in the heart of the city, was not considered as a venue for the under-17 World Cup in 2017. "Do you consider that a stadium," one official asked, pointing out to the temporary stands at the stadium. The Salt Lake stadium in Kolkata will easily pass the test even though it has an artificial turf and must find an alternative artificial turf training ground nearby.