Sochi: What's next for Fisht? Not much, sadly
source: StadiumDB.com; author: michał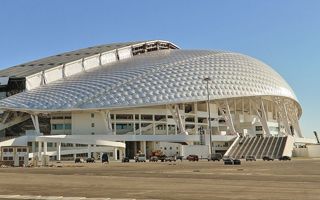 Two weeks of 2014 Winter Olympics have passed and so has the event calendar for the tournament's main stadium. First football games is scheduled for mid-2017, no solid plans for other events are in place.
Together with temporary event infrastructure, Stadion Fisht so far consumed $778.7 million (€566m), which represents 15 times the amount it was initially hoped to cost. And this figure doesn't include the cost of demounting the temporary parts.
After the 2014 Paralympics closing ceremony on March 16 the stadium will be set for significant changes. Large sheds on both ends need to be taken down, so does the temporary steel roof over the future football field. And while we're at it, the field also needs to replace the temporary ramp set as stage for opening and closing ceremonies. Further end zones are to be added on both ends then.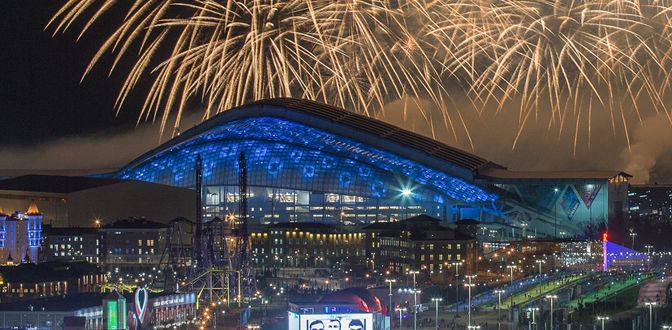 And while the stands will be enclosed, the event calendar is all open. In fact, even the events previously planned won't take place here. Most notably, there is no club to play here on a regular basis, not any more.
The missing Pearl
Established in 1991, the local team FK Zhemchuzhyna (Pearl) reached the top league of Russia already in 1993. But the expected local powerhouse began falling down not long afterwards. In 1999 relegation to the second tier, in 2000 one more drop. When the club ended last in third league in 2003, it was disbanded.
Re-established in 2007 it again reached the second league in 2008. Not for long, in 2011 the club seized to exist again. Recreated yet again, in 2012 the club suffered from 28 losses in the league and was excluded from participation, starting anew in regional competition. And it happened again, in May 2013 Zhemchuzhyna was disbanded again.
Currently there is no club in the region that could draw considerable crowds, closest popular team is located in Krasnodar, 200km west. And it's not coming to Sochi. Can a new club be formed? Of course, but the tendency in Russian football is a truly afflicting one. New sides without history and a previously-existing fanbase almost never manage to build a considerable position, ending their existence after several years.
Russian Olympic Committee chairman Alexander Zhukov expressed hope after closing the Olympics, that some club from Sochi will take over and fill the game calendar. But a success story seems extremely unlikely. Especially that even Zhemchuzhyna didn't make full use of their centrally-located old stadium, four times smaller than Fisht (lying 20km south of Sochi).
Three years, zero use?
While many stadium operators worry about working on a profit, in Sochi this isn't the case. It's already clear that Fisht will require significant public funding every year. The bigger problem is securing any events at all, because not only Zhemchuzhyna disappeared from the previously envisaged event calendar.
One more is the F1 Grand Prix, which is coming to Sochi in October 2014. Initial speculations included the stadium and its stands in the project. To make it possible, the track would have to run inside the structure, but its final design bypasses the Olympic Complex's largest venue completely.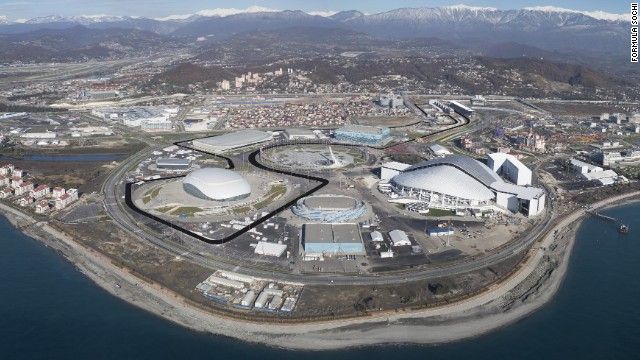 It's clear there is no solid legacy plan for the stadium. This doesn't mean there is no hope at all, thankfully. Sochi is expected to be Russian national team's training camp, which may bring some international games, even if only friendlies.
Another idea is the one by Mariinsky Theatre's artistic leader, Valery Gergiev. He hopes to bring two operas per year to Sochi, staging them at the giant and putting the holiday resort on world's cultural map.
Then comes the concept of Federation of International Bandy (FIB) to stage two exhibition games between Russia and Sochi (male and female teams) at the stadium, on a temporary ice rink that doesn't ruin the field underneath.
And that's pretty much it. While stadiums rarely get out of the red without some 20 large events per year, Sochi has 8 over three years planned so far. The number doesn't include any football games, because none of the national team were announced so far.
No wonder that the entire Olympic Complex was recently suggested to become a holiday sports camp for children from across Russia, including orphans. This interesting and educational project is at an early stage, but will certainly not generate revenues, quite the contrary.
Meanwhile another costs are on the horizon, because the stadium will need secondary preparation works ahead of the 2018 World Cup.