Nomination: Basrah International Stadium
source: StadiumDB.com; author: michał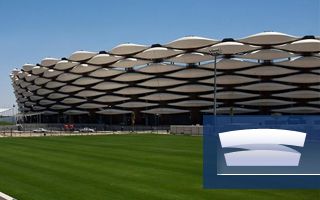 On one hand this stadium's scale and standard amaze, sending a strong signal that Iraq is reappearing on global sports map right now. But on the other hand some questions still need to be answered regarding its future.
Judging only by photos, Basrah International Stadium was built in the middle of the desert. Currently largest sports ground in Iraq is indeed located on the very edge of Basra municipality, with few buildings around it. But then again, the distance from city centre is only a few kilometers with decent access.
The vast space surrounding it was required to accommodate what is planned to be a 200-hectare centre for sports in Iraq's second largest metropolis. First phase saw the main stadium for 65,000 spectators, a secondary one with 10,000 seats, four training pitches and extensive infrastructure with hotels, dormitories, rescue services and other sport discipline courts.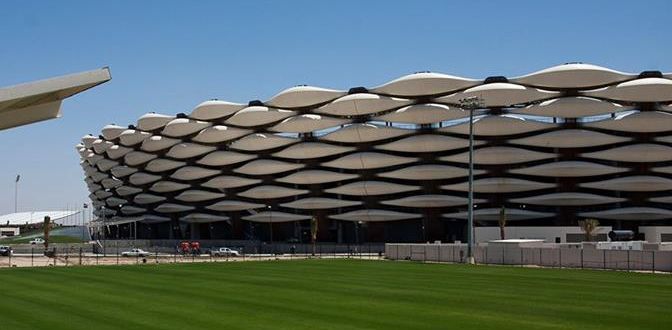 This nomination to Stadium of the Year 2013 title has never been an easy project and the large scale is only one of the reasons. There's also the budget of $550 million and tight time frame of just under three years in Iraq's harsh climate. No wonder that initial capacities of 80,000 and 20,000 for two largest stadiums had to be reduced.
Construction of the complex was due to finish within 32 months, but was delayed severely, mainly due to design changes over the course of works. First scheduled for opening in early 2012, later postponed to early 2013, the opening finally took place on October 12, 2013 when the stadium wasn't fully completed yet.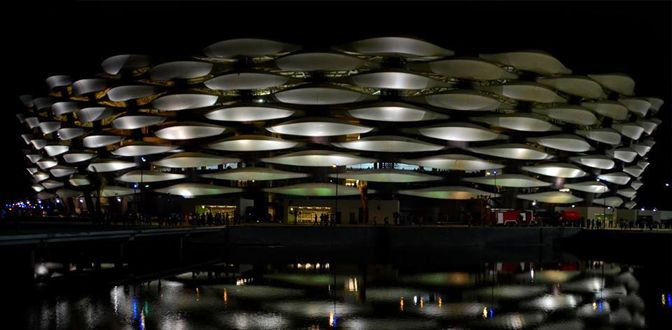 Even with significant delays the stadium was delivered in just over 4 years – not impressive, but not the most lagging as well. Especially if we take into account the stadium's size. The steel structure alone consumed some 19,000 tons with concrete shell cast on-site being much greater. Hidden under the stands are not only player and hospitality zones, but also facilities for other sports disciplines.
The stadium is surrounded by a complex of artificial ponds that together form the shape of Iraq's map when viewed from above. At the heart stands the main stadium, designed by 360 Architecture.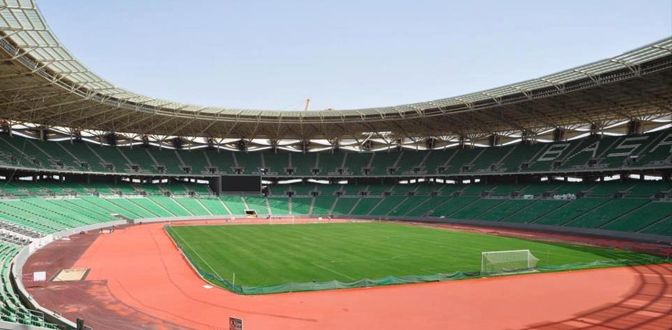 Along the designers' vision the stadium was covered with a total of 45,000 sqm of synthetic cladding formed into large panels interleaving large steel columns. This catches the eye from afar and once you come closer, you see the details: the steel pylons are perforated with decorative patterns.
As the stadium saw only one game in 2013, and one that suffered from serious setbacks, it's not easy to predict the stadium's long-term use. No club in Basra would be able to become a strong tenant at this moment, but then again sell-out crowd at the opening shows the football demand is huge across the metropolis.