New stadium: Fisht Olympic Stadium
source: StadiumDB.com; author: michał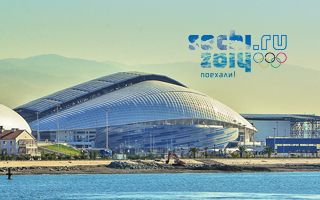 The giant in Sochi officially begins life tonight. It lost a lot of its aesthetics after temporary structures were added, but is still impressive. And apart from the opening ceremony content only its price remains a secret.
Decision to build a new stadium in popular tourist resort of Sochi was confirmed in 2007, as the city was selected by the IOC as 2014 Winter Olympics host. In practise the arena was planned some 20km outside Sochi, in the town Adler.
Design contract was awarded to global leaders Populous, who presented their first renderings in 2009. The concept embraces Sochi's biggest riches – the landscape. Mountains to the north, Black Sea to the south. If so, the stadium was designed with two open terraces leading up to the stands and allowing people inside to view both of the pictoresques landscapes.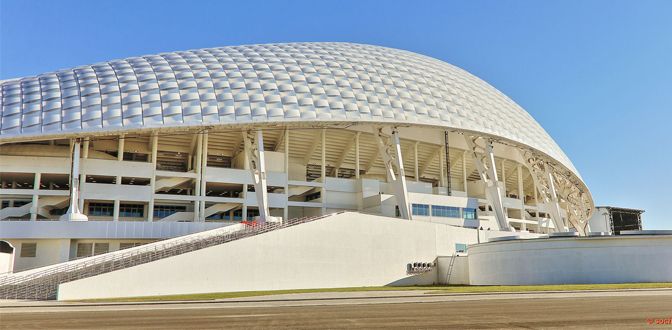 At the same time the roof structure was created to immitate a mountain. Instead of regular arches, the two massive steel beams that give support to the cover are tall and more dramatic, having a tip like mountains. And fittingly the stadium received its name Fisht, shared with a local peak.
The roof structure was created with white steel and covered with ETFE membrane, known from more and more stadiums across the globe, to name Allianz Arena or Arena Pernambuco as examples. With light colours and soft appearance, the roof seems almost airy, while in reality the trusses hidden underneath weight thousands of tons.
Inside a rather traditional seating layout was planned, having one tier encircle all of the field and the upper stands built only under the roof, along the sides. At peak the stadium is to hold over 47,000 people, however for the duration of 2014 Olympics the size is considerably smaller with gates created on both ends.
Capacity of over 40,000 is to remain until at least 2018, when group games of the 2018 World Cup are to be held. Long-term legacy was planned to involve a downsize to 20-25,000 people, but the plans are now put to question as the local football club Zhemchuzhina was dissolved in 2013.
Olympic alterations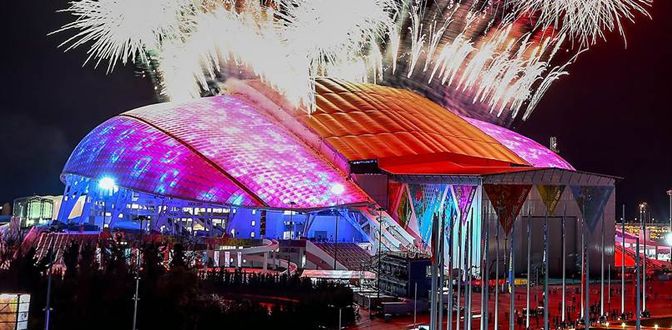 Apart from the wide gates on both that will allow artists easy access during open and closing ceremonies, several other changes were made to the initial project.
Most important one includes a temporary roof over entire stadium, aimed at making it independent from weather conditions. However, this was met with some criticism as spectators inside will not be able to enjoy fireworks planned during events. Two huge sheds were also created on ends to house the equipment used for opening and closing, disrupting the stadium's outer aesthetics significantly.
Controversy
It's not the end of trouble for Sochi's giant. The stadium has been marred with controversy since the very beginning of construction. The environmental impact assessment wasn't delivered until construction had already started, while the stadium and entire Olympic centre stand on legally protected natural habitat. This was seen by many environmentalists as a scandal and proof of negligence by authorities.
Then construction itself became controversial. Despite IOC giving specific deadlines for stadium delivery, the project is still not finished! Instead of regular events to test all systems, people were simply let inside a few days back to enjoy a preview of ceremonies during rehearsals.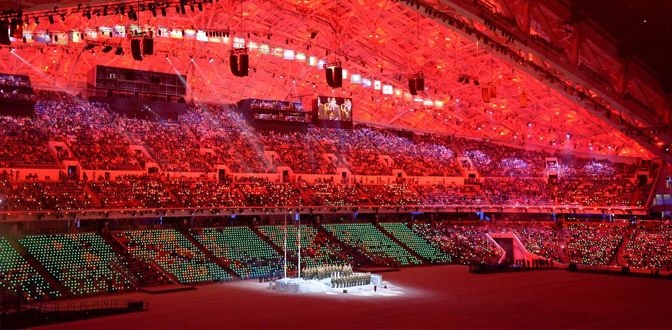 Another, perhaps biggest issue surrounding the stadium is its cost. When first estimated in Sochi's bid back in 2006, the stadium was to cost $49 at most. That figure was surely underestimated, but the inflation that followed after groundbreaking can hardly be called reasonable.
Already in 2009 it was said to cost $63.5 million. By 2012 it reached $390 million and in 2013 went over the $600-million mark. How much did the project end at? This is unclear or more fittingly – this is yet to be established after conversions that are expected after the Olympics.
Most extreme set of expenses to date gives the number at $778 million, but it's unclear what elements are included and whether some of the opening/closing ceremony expenses weren't counted here. The Anti-Corruption Foundation gives a figure of $519 million, which is still a very high one, but less extreme than the nearly $800-million point.