Munich: Miss nine games and you're out
source: StadiumDB.com; author: michał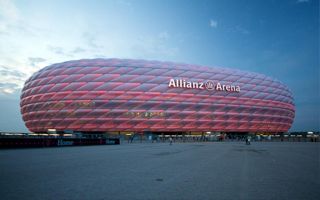 Bayern informed its season-ticket holders that they either attend most games or lose their right to visit Allianz Arena at all. The club has a long waiting list for tickets, while many people don't use their season allocations too often.
Allianz Arena keeps growing, but still falls short of ticket demand in Munich. Bayern hope to get the stadium beyond the 75,000 mark ahead of 2014/15 season, but that number is still certain to make only part of the waiting list happy.
As the club emphesises in attendance reports, all league games since the Arena's opening in 2005 have been sold out. The Bavarian side regularly ends ticket sales ahead of season (!) with the extremely high demand. As 10 free season tickets were up for grabs before 2012/13 season, some 15,000 people participated in the draw.
This data is very impressive indeed and can be matched by few clubs worldwide, but it's not all true. Things may be fine financially, however many tickets paid for are left unused. Many people buy season tickets in advance, while they only visit Allianz Arena for selected, most interesting fixtures instead of all. Their seats are empty, but not available for anyone else.


Fot: Richard Cawood
Bayern hasn't revealed the scale of such actions, but it's understood to be considerable, because the club has now approved a new policy. Season ticket owners are informed that they may lose their seat or standing place if they don't attend most games.
As Bundesliga provides 17 home fixtures, every season-ticket holder may has to be present at 50%+1 games, or simply: attend 9, miss not more than 8 games. Should one miss the ninth game, he loses the season ticket, which is then made available to other interested fans.
Despite the problem being known for some time, Bayern didn't introduce a season-ticket exchange system. Currently each card is personalised and (at least in theory) may be used only by its rightful owner.
Similar problems aren't new to some of the biggest clubs in the world. Manchester United and FC Barcelona also faced 'ghost seats' at their stadiums. The latter sells more season tickets than any other club (just under 87,000), but at some games the number of absent holders was reported to be within 30,000-40,000!