Madrid: Aragones receives avenue leading to La Peineta
source: clubatleticodemadrid.com; author: michał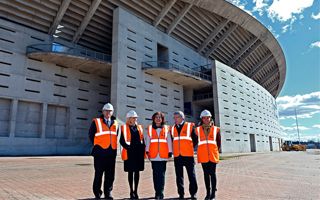 Is this a compromise between appeals to name the stadium after Luis Aragones and naming rights sale? The city announced that the late legend of Atletico is getting his own avenue as a tribute. Now patronage over the stadium seems unlikely.
During yesterday's visit at the construction site of Estadio la Peineta the mayor of Madrid Ana Botella announced that the central avenue leading to the new stadium will be named Avenida Luis Aragones. This way the recently deceased legendary player and coach of Atletico is to be properly honoured.
"Soon the full city council, as proposed by the San Blas district, will approve the name of Luis Aragones for access avenue to La Peineta", Botella declared while viewing the slowly progressing works.
The announcement has another meaning, apart from being the suggested tribute. Now it's very unlikely that Atletico will name the stadium after Aragones too. This has been proposed by thousands of supporters after Aragones's passing, but the club hasn't commented on the appeals.
Meanwhile the co called La Peineta will most likely have a commercial name. Atletico are said to be in final stages of negotiations with Etihad Airways over a long-term naming rights deal.