Toronto: "We're going to spend $120 million to build an English Premier stadium"
source: TheStar.com; author: michał
It seems BMO Field is about to grow, providing that Toronto FC owners convince the city to approve of the upgrade. Not only 50% bigger, the stadium would get a new roof and possibly a new tenant, this time in American football.
Maple Leaf Sports and Entertainment CEO Tim Leiweke gave a captivating speech on Tuesday night, concerning the future of Toronto FC. Their stadium, the BMO Field, is only 7 years old, but already one of the most outdated in the MLS.
This is why MLSE hope to convince owners of the stadium, the city of Toronto, to redevelop the stadium. With current capacity at 22,000, the ground would grow by almost 50%, to some 30,000. It's also expected to have all stands covered, contrary to current standard with only a small canopy above the main stand.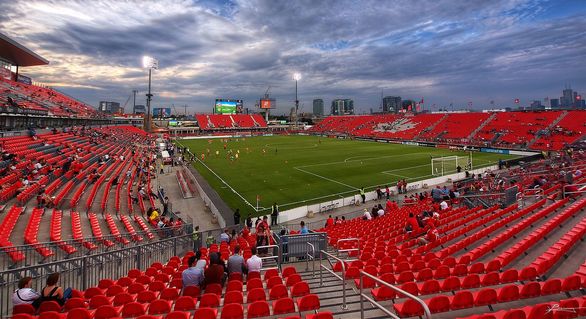 Photo: Paul Bica (cc: by)
"We're going to spend $120 million to build an English Premier (League)-style stadium, with a roof that covers the seats," Leiweke said.
The project would include retractable stands on both ends to enable a groundshare with Toronto Argonauts, the local CFL team. That in turn might also prove challenging for the field, making hybrid turf a possibility with much more use planned. There would also be a new training hall for the Toronto Raports basketball team within the complex.