Pyrotechnics: How will the Swedish debate end?
source: StadiumDB.com; author: michał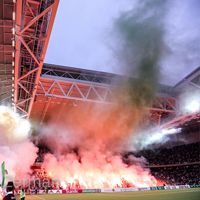 It's almost a year since Sweden saw its major conference devoted to pyrotechnics at sports games. The debate goes on and seems to be closing to a final. Would this mean legalisation? It's not ruled out for sure.
January of 2013 saw a major conference devoted specifically to the issue of pyrotechnics at football games. Sweden has been famous for immense pyroshows decorating games and being part of the fan culture. Currently illegal, the displays still go on, even inside closed arenas. This prompted a bold suggestion from Björn Eriksson, the national coordinator for sports violence: how about we legalise it?
Of course this would have to come under strict conditions to ensure safety. To determine, whether an agreement can be reached at all, a working group was established soon after this statement. With members of sports associations, emergency servies, police and supporters included, the working group began a dialogue that's still ongoing today.
Pyro-testing
Most spectacular element of this dialogue was the September pyrotechnics test inside the new national stadium, Friends Arena. Though a closed dome, it's been designed to properly clear smoke from the inside within minutes. So how did it handle a few dozen pyrotechnic materials set off at once? This was analysed by the Orebro University Hospital specialists.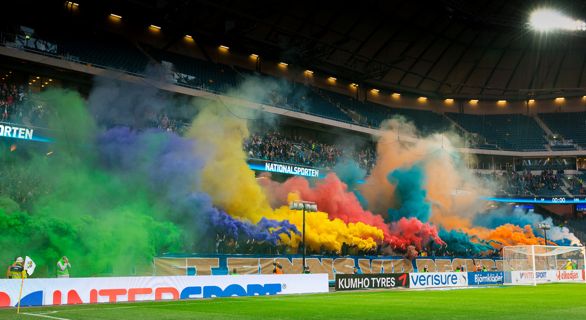 Fans didn't wait until September to test it, here's the May pyroshow by DIF supporters. Photo: Anna Lu Lundholm, DIF_Fotboll
As expected, the smoke generated by pyrotechnics contains potentially hazardous substances, like magnesium and hydrogen chloride. However, the test period of 30 minute-long exposure saw no risk of harm to fans inhaling it. Recommendation is to spend less than 5 hours in such environment.
This sounds encouraging for pyrotechnics enthusiasts, but there also is bad news. The strong light of flares may cause eye damage if looking directly at the flame long enough. This also isn't surprising though, as similar damage may be seen when looking directly at the sun.
One down, two to go
As the police announced in late November, the health risk evaluation was only one of the aspects to be analysed. Another is the fire/flammability threat and finally the third – crowd/spectator safety during and after such display. Evaluation should be known relatively soon, perhaps as soon as February.
While the Swedish police shows very cautious approach, the stance differs from one represented by most forces in Europe. Speaking to Dagens Nyheter in December 2013, Isabela Thoren of the national police assures that if a safe solution is found, the police would not block legalising pyrotechnics.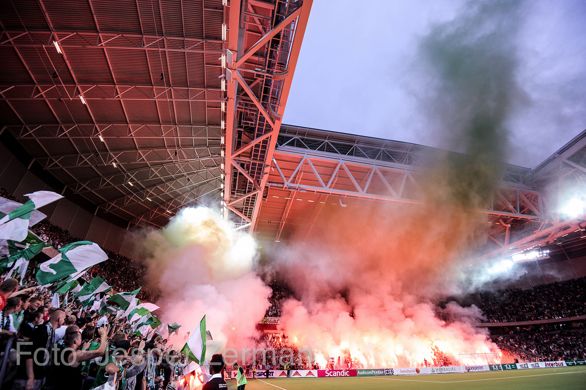 Also the Tele2 Arena had its pyro-test right as it opened. Photo: Jesper Zerman
Safe zone
What echoes in the Swedish debate since early 2013 is finding a 'safe zone' to display pyrotechnics in. As the coordinator for sports-related violence suggested, flares might be lit in a space without highly congested crowd.
Another condition is that fans should be trained and certified before being allowed to use flares inside a stadium.
Can this be a long-term solution for Swedish fans? They surely have the attention of authorities. Not only the police and other public services are looking into the case of legal pyrotechnics, but also the football governing bodies, SEF and SvFF.
Those very same bodies that banned pyrotechnics completely back in 2007 now announce the will to reconsider. This stance is strengthened by a decisive support from some football clubs.
Derby rivals from Goteborg both clearly stand behind legal and safe pyrotechnics. GAIS expressed their support already in April and launched an appeal for others to consider it as well. IFK Goteborg in turn addressed the issue in November. The club stated it supports pyrotechnic displays as long as they are legal, safe and desired by supporters.