Pyrotechnics: Swedish police to test flares
source: Polisen.se / Svenskafans.com / StadiumDB.com; author: michał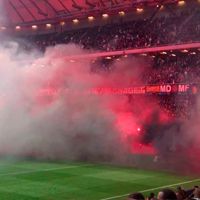 As part of building a nationwide strategy for sports events safety, members of the national police are to test various kinds of pyrotechnics at Friends Arena tomorrow. The aim is to establish whether there is a threat for spectators and legalisation of some materials is possible.
Swedish police decided to face facts. Flares have been de-legalised in that country, but their amount used by football fans is still increasing. To add to that, the country earned two stadia with closed roofs recently, raising the question of safety of all those inside them.
Following consultations with Swedish fans union SFSU, tomorrow the police is to carry out tests at Friends Arena, including various kinds of pyrotechnic materials and check what particles are inhaled by spectators and whether it may be a threat to health or safety.
The results, expected to be evaluated in October, are to apply for most modern venues, including hockey halls that also see fans lighting flares inside. Should the analysis bring positive results for fans, certain kinds of pyrotechnics may be legalised for use as part of the spectacles in the stands.
Tomorrow's tests are to be attended by all rescue services, prosecutors, football and hockey federations, top league authorities, arena operators and environment specialists, among other.